Chelsea Sign Socialist Workers Party
OLD BAG: This is an archive story from Issue 102 - 18 Jul 2005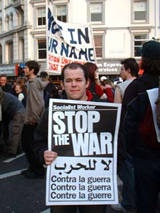 Trot: Facing the future
Mourinho: Previous life
Wright-Phillips: Uncertain present
Share the "Truth":

Twitter
Digg
StumbleUpon
del.icio.us
Facebook
Blues baffled as Bridge is beset by Trots
In the biggest transfer cock-up since AC Milan mistook Luther Blissett for John Barnes, Chelsea have signed Trotskyite revolutionaries the Socialist Workers Party.
Fingers in pies
The Blues were intending to sign Manchester City Wonderkid Shaun Wright-Phillips whom the media have taken to referring to as SWP which in turn is the accepted abbreviation for the hard left political party who are members of such causes as the "Stop The War" Campaign, the Anti Nazi League and the Respect Coalition.
Commodification
"There's been a terrible mistake" said Chelsea Chief Executive Peter Kenyon. "I've got enough problems with the BNP on match-days the last thing I need is bloody race riots getting in the way of the advertising hoardings and upsetting our valuable commodities on the pitch. This is the Kings Road not Cable Street."
Land and freedom
Not everyone at Chelsea is unhappy though. Manager Jose Mourinho was delighted. "In a previous life I fought for the Trotskyites against the Fascists and Stalinists during the Spanish Civil War" he said while on the set of his latest American Express advert.
Rip the top off
Meanwhile at SWP headquarters in east London, Central Committee member Les Dyke was looking forward to the move across town. "This is a fantastic opportunity to spread the message to the working class about the injustices both here and abroad such as the Government's private finance initiative, the threat of the far-right and the illegal occupation of Iraq. Plus £80,000 a week buys a lot of placards."
Shaun Wright-Phillips refused to comment. "I'm waiting on a phone call" he said.

Twitter:
Tweet this story
|
Follow the Onion Bag
|
Follow Duffman
Copyright © 2003 - 2023 The Onion Bag