Bored stiff
OLD BAG: This is an archive story from Issue 112 - 26 Sep 2005
Anchor's wahay!
Interesting...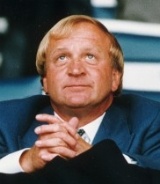 ... very interesting
Share the "Truth":

Twitter
Digg
StumbleUpon
del.icio.us
Facebook
Web Search:
Shexy football pronounced dead at 4-5-1
Premiership bosses are in a state of panic after football was officially declared as "a bit dull" by industry watchdogs.
Declining attendances and predictable outcomes have pushed the Premiership's cool factor to a new record low.
TV figures have put live Premiership football below cricket, darts, synchronised swimming and that funny-looking A1 motor racing in the ratings. And, unlike A1, football doesn't even have sexpot anchor Georgie Thompson fronting it.
Are you ready?
Dr Julius Limbani, head of research at The National Centre of Dull Studies in Croydon, explained what was going on: "The latest generation of fans are in real danger of finding out that, despite the constant hyperbole of Sky Sports and the Premier League's numerous sponsors, for the most part football is actually quite boring to watch.
More more more
"And now that clubs have priced their old supporter base (what we in the academic world call the working class) out of the game, attendances are dropping. It's pretty straightforward when you think about it." Limbani predicts that some fans may ask for their money back after especially dull games. "We have heard of some cases where people have even demanded the last 90 minutes of their lives back. We call this the Collateral Damage effect."
No turning back
Premier League bosses are playing down any suggestions that their sport is dull but have all the same announced the formation of some committee to look into it. "We intend to leave no stone unturned", said Chelsea Chief Executive Peter Kenyon. "We are confident that we can come up with some excuse for falling attendances without blaming it on increased ticket prices. Even if it bloody kills us."
Alive & Kicking
Supporter activist, Les Dyke, is in no doubt as to the result of supporter apathy. "This is a prime example of capitalism ruining our game. By pricing the working man out of his traditional past time, big business is threatening the existance of the game itself." When we pointed out that England's second league, the Championship, was enjoying record high attendances while still charging a fortune s/he replied: "You clearly don't understand the complexities of social group interactivity with... er, your flies are undone."

Twitter:
Tweet this story
|
Follow the Onion Bag
Copyright © 2003 - 2023 The Onion Bag