FA ACT ON BIRD FLU SCARE
OLD BAG: This is an archive story from Issue 116 - 24 Oct 2005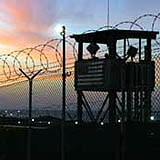 St James' Park: quarantined
Sick bird: Must stay at least 100 yards away from
Pete the Eagle: RIP
Share the "Truth":

Twitter
Digg
StumbleUpon
del.icio.us
Facebook
Panic as killer virus closes in on football
The Football Association last night quarantined more than a dozen football clubs over fears that their bird-like nicknames may make them susceptible to the deadly avian flu currently sweeping the world.
High profile teams such as Newcastle (the Magpies), Crystal Palace (the Eagles), and Norwich (the Canaries) have all had their grounds and training facilities locked down by soldiers in protective suits. No-one is allowed in or out. Other teams affected include Brighton, Sheffield Wednesday, Bristol City, and Swansea, while Brentford and Watford, who are nicknamed the Bees and the Hornets respectively, have been placed on alert. Charlton Athletic, meanwhile, who play a rubbish song about a robin when they run on the pitch, have also been warned they may be closed next.
Freebird
FA Chief Executive Brian Barwick told the Onion Bag's intrepid reporter Larry Gak that its response to the pandemic is "just a precautionary measure", adding that "in a post 9/11 world, we can never be too careful."
Sweet Home Alabama
Max Clifford, representing global drug corporation Exploitca who make the only known cure for the virus, said "We've only produced a few doses so far, and they're reserved for the Queen, George Bush, and Bono. If the world's governments would like to give us twelvety billion pounds however, we'll happily run off enough for everyone. Until then, though, I'd say you're all doomed. Blame your politicians! Now excuse me while I go and scare some other people."
Gimme Three Steps
Until the panic is over, the quarantined clubs will remain locked up. Conditions behind the fences are said to be deteriorating rapidly, with a lack of food, water, and birdseed causing paranoia and unrest. Soldiers have already shot and killed Crystal Palace mascot Pete the Eagle when he attempted a desperate bid for freedom by jumping off the roof of Selhurst Park.

Twitter:
Tweet this story
|
Follow the Onion Bag
|
Follow Castro
Copyright © 2003 - 2023 The Onion Bag