BECKHAM: FERGIE TOLD ME 'THIS SHIRT'S TOO BIG FOR YOU SON'
OLD BAG: This is an archive story from Issue 12 - 3 Sep 2003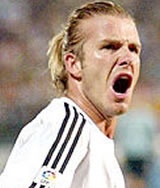 Beckham: Hurt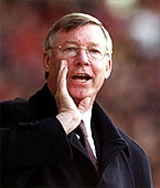 Fergie: Abusive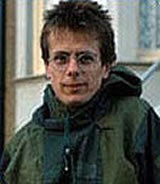 Watt: Old rope
Share the "Truth":

Twitter
Digg
StumbleUpon
del.icio.us
Facebook
Web Search:
United get shirty... again
The Onion Bag can reveal the moment that David Beckham was confronted with the agonizing and painful realization that he was finished at Manchester United and would have to leave for the Real Madrid "Galactico's" and a whopping great pay rise.
This sensational news comes from Beckham's autobiography, due for release soon and not currently being serialized by The Onion Bag that was apparently written by the man himself and not by some failed actor who has the cheek to draw a living talking rubbish into a microphone for local radio.
Get shirty
The precise moment, when Becks knew his United career was over, came the day before last seasons Champion League quarter final encounter with Beckams future club (surely his present club-Ed) Real Madrid. "Fergie approached me at the United training ground the day before the match." writes the England skipper with uncharacteristic articulacy. "He told me I was dropped for the Madrid game the next day. He said the new shirts had come in for the game and mine was too large and that I'd look stupid so it was best if I didn't play"
"This shirts to big for you, son" he said
Beckham was furious at the United supremo's decision. "I was furious. I'd given my precise specification to the kit manager three weeks before the game and could see that this was a clear snub against me." claims the former Eastenders star (What?!-Ed), "I said nothing and walked off towards the changing room to the sounds of Sir Alex saying that if I wasn't such a f**ing pussy whipped gobs**te I'd just use any of the shirt around that fitted just fine anyway and that I shouldn't walk off when he was f**king talking to me."(Thats enough Fergie expletives-Ed)
Hi ho
"But I knew at that precise moment that he no longer wanted me at the club. My days were as numbered as my Swiss bank account."
This latest scandal is the first in a long line of football kit related incidents involving the English champions. However this debacle will be the most embarrassing.
Advanced sales on Beckham's book are sky high as it promises to reveal even more intimate secrets from the United dressing room such as, "Don't call Scholes a poisoned dwarf or he'll twat you" and "From fall down to come down. The secret life of Ruud Van Nistelrooy".

Twitter:
Tweet this story
|
Follow the Onion Bag
|
Follow Duffman
Copyright © 2003 - 2022 The Onion Bag