Sven: Save your precious rage for the Turks
OLD BAG: This is an archive story from Issue 13 - 11 Sep 2003
Sven: They shall all suffer
Rooney, Becks and Gerrard: Hot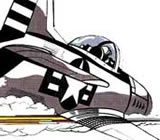 Leichstenstein: Cool
Share the "Truth":

Twitter
Digg
StumbleUpon
del.icio.us
Facebook
England Manager Sven Goran-Eriksson revealed that he wanted his skipper David Beckham and Liverpool Midfield dynamo to avoid a second yellow card and thereby save up all his anger and aggression for the big game against Turkey on October 11th.
"Make no mistake." Said Eriksson "The game in Istanbul will be a bloodbath and I want my golden boys ready for battle"
"The Turkey game is going to be massive. There is so much at stake that anyone who goes there must be prepared to do battle and get ruthlessly slaughtered, their homes burnt down and wives taken away." The England coach exclusively told the Onion Bag after last nights victory over Liechtenstein which takes them top of their group and needing a point in the former Constantinople.
"Don't misunderstand me. Those Turkish bastards will stop at nothing to have their way with us and I told my players, especially those on yellow cards to spare Liechtenstein from total annihilation and save themselves for the sacking of Istanbul."
With that the England coach produced a horned helmet from behind his back placed it on his head and asked "Do you hear the horns?"
Jingo
These inflammatory and slight homo-erotic remarks will almost certainly turn the Tension Dial from an uneasy 30 two a vein throbbing 55. Already Hanuk Ulusoy, president of the Turkish Football Federation has reacted angrily to Sven comments.
"Eriksson has gone too far this time and must pay." Ulusoy ranted. "I urge all Englishman to travel to Istanbul and bare witness as we remove the head of your beloved coach and deep fry it in Cypriot olive oil."
Mudd
In order to calm down this war of words, someone thought it would be a good idea to get UEFA involved.
"After careful consideration," UEFA geezer Mike Lee announced,"we have decided to hold a mud wrestling tournament here at our headquarters." When asked who the participants would be Lee's reply was: "Well... to be honest I haven't really thought it through. I was hoping that if I suggested something stupid you might go away."

Twitter:
Tweet this story
|
Follow the Onion Bag
|
Follow Duffman
Copyright © 2003 - 2022 The Onion Bag