BRUCIE'S LUCKY NUMBER TEN
OLD BAG: This is an archive story from Issue 137 - 28 Mar 2006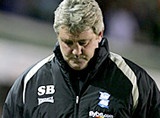 Bruce: Recalling happier times
Muller: Broken promises
Derek: Must stay at least 100 yards away from
Share the "Truth":

Twitter
Digg
StumbleUpon
del.icio.us
Facebook
Web Search:
Brum boss says spank total's the tops
Steve Bruce, manager of Premiership whipping boys Birmingham City has revealed his lucky number as the same number of goals his hapless charges have shipped in the last two matches: Ten.
Bruce and his disparate mob of football players were helpless spectators as Liverpool romped to a 7-0 win at Birmingham in last Tuesday's FA Cup quarter final. However, he was encouraged by Blues performance against Man United on Sunday when they rounded up their goals against tally to a perfect ten.
Goal
"Ten's always been my favourite number" Bruce told The Onion Bag's Larry Gak shortly after watching his team get hammered 3-0 at Old Trafford. "I was ten years old when I started my World Cup sticker album collection. It was Mexico 70" he recalled wistfully.
"I remember only having Gerd Muller to finish the set. My best mate Jack gave it to me. I was supposed to give him my Peru team photo in return but then a cool kid said I could come to his party if I gave it to him instead. Funny the things you do when you're a kid"
Ten
It's not just German soccer legends of yesteryear that give the number ten such meaning. Bruce is also a big fan of Blake Edwards's romantic comedy "10" starring the luxurious Bo Derek. "I was 19 and just starting off in life when I first saw Bo Derek running across that beach with those flowing dreadlocks and wearing that skimpy swimsuit. Every time I think of the number ten I get all warm and sticky."
Omen
"So you see?" he said with mind boggling reassurance "It's an omen. We've finally turned the corner… Why are you looking at me like that?"
The beleaguered coach is adamant that Blues won't go from useless to Bruceless and insists he won't resign. "I'm no quitter" the former Sheffield United, Huddersfield, Wigan & Palace manager declared. "Well alright, I am a quitter. But I'm not leaving now honest. I've got nowhere else to go."

Twitter:
Tweet this story
|
Follow the Onion Bag
|
Follow Duffman
Copyright © 2003 - 2023 The Onion Bag