UN Condemns Arsenal
OLD BAG: This is an archive story from Issue 15 - 25 Sep 2003
Keown: Having a quiet word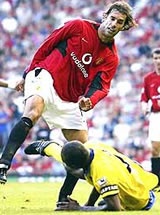 Viera: Showing his class
Annan: Softly softly
Share the "Truth":

Twitter
Digg
StumbleUpon
del.icio.us
Facebook
Former premiership champions Arsenal came under fire at the United Nations conference in New York this week, after the outrageous behavior of their players in the match against Manchester United last Sunday.
Leaders of the free world lined up to attack Arsene Wenger's team of superstars following the controversial events at Old Trafford.
United Nations leader Kofi Annan was the first to lead the condemnations, albeit in couched terms:
"While we share the Gunners natural distaste toward the deeds of van Niistelroy, we feel that Arsenal's actions were inexcusable in light of the fact that no UN resolution had been established prior to this arbitrary action."
US Secretary of State Coelin(Surely thats Colin-Ed) Powell joined in the admonitions:
"Arsenal's action are not only moral reprehensible." Said the White Dove "but could be interpreted as a threat to the security of the free world.".
Pointless political outburst
Powell was particularly scathing of Gunners defender Martin Keown. "The man they call El Monkey must be punished in the name of demarcracy. His actions against the truth and righteousness of the great Manchester United Yankees deserves the highest retribution and I call upon the UN to set aside any other issues in pursuit of this goal. And yes that includes the invasion of Iraq, the Palestinian question and anything else that may prevent the free thinking peoples of this world from considering anything other than a pointless bust up between a bunch of soccer players that actually did no harm to any one." He said while twirling the mustache he has not actually grown.
Prime Minister of Israel Ariel Sharon added to the condemnation:
"The actions of the Arsenal Football Club against the good people of Manchester were some of the most horrific as I have ever seen." He said. "And I should know."
"If it were up to me," continued the Israeli manager "I'd crush there rebellious football ground before you could say Ashburton Grove."
Hackneyed
This sensational outburst follows a minor case of handbags after an extremely dull game of football last Sunday that frankly would have been forgotten about had it occurred at a Sunday league game on Hackney Marshes a few hours before.
Tony Blair (British Prime Minister) who was not present at the UN conference had very little to say: "I have very little to say" he said for once."Please don't quote me on anything." He requested while quivering in the corner of The House of Parliaments lobby chamber.
Meanwhile, on the subject of football, Arsene Wenger has been asked to explain his comments after the match about van Niistelroy to the F.A.
"I don't know why they would ask me thet." the Arsenal boss told The Onion Bag."As Sir Alex would say... I called Ruud a f**ing cheat and now I'm calling youse a f**ing cheat."
Sir Alex was unavailable for comment.

Twitter:
Tweet this story
|
Follow the Onion Bag
|
Follow Duffman
Copyright © 2003 - 2023 The Onion Bag