zidane's blind terror date
OLD BAG: This is an archive story from Issue 154 - 24 Jul 2006
"Look out Zizou, she's coming over!"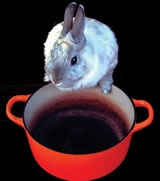 Zizou's rabbit: Cutting out the middle-man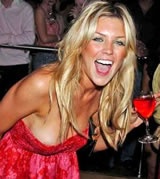 Clancy: Must stay at least 100 yards away from us
Share the "Truth":

Twitter
Digg
StumbleUpon
del.icio.us
Facebook
Web Search:
Zizou gets the Abi treatment
Zinidine Zidane may be forced to go on a date with Peter Crouch's ex-girlfriend Abi Clancy as part of his community service.
The hoary old chest-nutting world cup legend has been sentenced to three days of what he thought would be graffiti removal and meals on wheels runs but instead has been told by FIFA officials to expect more radical punishment in the form of taking wannabe WAG Clancy out to dinner
Run rabbit
Crouch was forced to bring in the lawyers after his repeated attempts to dump bunny boiling, coke fiend Clancy through the usual channels had failed. It is thought that using Zidane as a diversion will give the England super-star a chance to escape. However, Zidane himself is violently opposed to the idea.
"At first I thought that I'd be helping people. They said I was to going to help a young person coming off of drugs and struggling with their grasp on reality", confided the former french star. "When I found out it was that bunny boiler, I told them to do one."
Pretty stupid
Abi was in upbeat mood about the coming evening. "Obviously I have to fit it in with my commitments to LivingTV but I'm really looking forward to it", she enthused. "I know it's only one date, but I think it would be pretty stupid of me not to book the registry office and take along a few wallpaper samples for the nursery."
The real thing
Clancy has lined up shamed West Ham midfielder Shaun Newton as a possible fall back should things not work out with Zizou. "We have so many common interests" she explained "also, he's got the next seven months off on full pay. Plenty of time for him to take me shopping, get me pregnant and then I can have fun for the rest of my life."
Red Rabbit
Meanwhile, Clancy's father Tom is furious about the scandal. He claims it is distracting him from his latest book The Hunt For Bearded Suicide Bombers. "If she doesn't calm down soon I'm sending her to Beirut for 'research' if you know what I mean"

Twitter:
Tweet this story
|
Follow the Onion Bag
Copyright © 2003 - 2023 The Onion Bag