Exposed: Roque Junior is Afroman
OLD BAG: This is an archive story from Issue 16 - 3 Oct 2003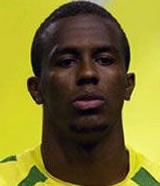 Afroman, yesterday
Roque Junior, on the bench
A file picture of a footballer chosen completely at random... yes indeed. Entirely at random.
Share the "Truth":

Twitter
Digg
StumbleUpon
del.icio.us
Facebook
Web Search:
Pressure on beleaguered Leeds boss Peter Reid intensified today as The Onion Bag discovered that he is the victim of the biggest transfer scam since the Aly Dya scandal.
Readers will recall that Ali Dya was the player whom the then Southampton boss gave a trial too on the recommendation of someone who phone Souness claiming to be George Weah.
Dya played twenty minutes of premiership football before it became clear that he couldn't kick a ball. However, The Onion Bag can reveal that it has taken Peter Reid three games to realize that his supposed new signing is not in fact World Cup winner Roque Junior but none other than urban songsmith and street poet Afroman.
The Onion Bag first developed suspicions about "Rocky" in the interview after Leeds recent 4-0 humiliation at the hands Premiership new boys Leicester City, when asked by well connected interviewer Clare Tomlinson about his recent performances he replied:
"I wasn't gonna foul that dude, but I was high.
I was gonna take that f**kin' ball
but then I got high.
And then I got sent off and I know why...
because I got high...because I got high...because I got high."
Reid, who narrowly avoided the sack yesterday, tried to defend his decision to sign the "Brazilian" claimed, "I got this phone call like from this bloke who says his names Rivaldo. And like he told me in this Brazilian accent 'Yo yo yo whassup. My man Roque Junior is yo man and is headin' your way.' or a least thats roughly how the conversation went.
Now that the deception has been uncovered Reid has decided to keep the fraudulent centre half on on account that his freestyle lyricism, laid back approach and constant herbal aroma goes down well in the dressing room.
La da da da da da...

Twitter:
Tweet this story
|
Follow the Onion Bag
Copyright © 2003 - 2023 The Onion Bag