Gotcha!
OLD BAG: This is an archive story from Issue 160 - 4 Sep 2006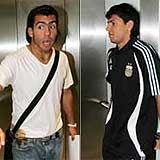 Argies: start war?
Winstone: you havin' a laugh?!?!
Thatcher: potty old bint
Share the "Truth":

Twitter
Digg
StumbleUpon
del.icio.us
Facebook
Web Search:
New Falkland fears as Hammers sign Argie duo
The Government was plunged into crisis last night as word of West Ham signing Argentinian duo Carlos Tevez and Javier Mascherano reached Whitehall, prompting recollections of what happened the last time an English club bought a pair of south Americans.
It is well known that Tottenham Hotspur's purchase of World Cup stars Osvaldo Ardiles and Ricardo Villa in 1979 led to the outbreak of war between Britain and Argentina three years later.
Gone to Wembley
Furious at the nicking of two star players, irate Argies invaded the nearby British-owned Falkland Islands. The so-so rag-bag of soldiers occupied the tiny islands until our brave British boys steamed in and took care of them, restoring the land and its oil rights to the Empire.
Knees have gone all trembly
The Government subsequently banned double-signings of Argentinian players, a ban that was only lifted in 2004. Whitehall horn Oswald Mosely bilged, "We are monitoring the situation very closely. The Army, Royal Navy and Royal Air Force have been placed on full alert, and we are preparing to withdraw the SAS from Iraq. Our battleships are mining the waters around the Falkland Islands as we speak. I cannot stress the gravity of the situation. We have grave fears that one appearance by these so-called footballers on Top of the Pops could re-ignite this conflict."
You havin' a giraffe?
Famous West Ham fan Ray Winstone is outraged. "It's a faaaacking disgrace, innit? My old dad, he yomped across West Falkland and took Port Stanley single-handed, and now Judas Pardew's gone and signed a pair of Argie tossers. I tell yeah, I'm burning me faaaacking season ticket. Up the Irons!"
The Onion Bag's intrepid reporter Larry Gak tracked down the senile, blazing-eyed, war-sow of a former Prime Minister Margaret Thatcher and asked her if she feared another conflict. She replied, "Tebbit, who is this commoner before me and has he paid his Poll Tax? See that some harm comes to him," before screeching, "Get in the back of the van!"
Chas'n'Dave
Last night, BBC executives sought to calm Government nerves by reminding them that Top of the Pops had been axed so there would be little chance of a naff Cup Final football song being featured.

Twitter:
Tweet this story
|
Follow the Onion Bag
|
Follow Castro
Copyright © 2003 - 2023 The Onion Bag