Gray's Anathema
OLD BAG: This is an archive story from Issue 161 - 11 Sep 2006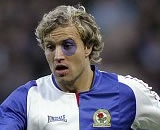 Gray: Shiner
Hot tasty rack
Colleen: Not up for seconds
Share the "Truth":

Twitter
Digg
StumbleUpon
del.icio.us
Facebook
Web Search:
Misunderstood menu causes restaurant rumpus
Michael Gray has blamed a suggestive specials menu for the much publicised spat with England and Manchester United superstar, Wayne Rooney.
Ooer missus
The Blackburn defender received a black eye from the fiery striker after reportedly making lewd comments regarding Rooney's girlfriend, Colleen, and his group of friends. Gray has defended his actions though, citing a litany of unintentional double-entendres as the cause for the mis-understanding.
"I'm a massive fan of Wayne and think his girlfriend's fantastic, I just got a little over-excited when I saw they were in the same restaurant as me. I went over to the table to talk about football and stuff but could see that Colleen was looking bored so I asked her what she was going to eat."
Boob gaffe
"I saw the ribs she'd ordered for starters and commented on how her rack looked very tasty - a lot better than the other melons on the table.
"For some reason they quickly took offence to this so I told them what I had ordered for dessert - the Hot Sticky Tart with a Double Cream filling but as I did, a fly hit my eye and it looked like I winked."
Sloppy seconds
He continued: "I realised I had to think quickly, as I could tell they'd got hold of the wrong end of the stick. Desperate to change the subject I quickly scanned the specials board and spotted the Glazed Honey Spitroast. It was when I suggested it to the couple that things turned ugly.
"I'll just have to chalk it up to experience, " Gray lamented holding a fresh steak to his injured eye. "I'll have to put up with pressing some rump up against my face for the next few days."

Twitter:
Tweet this story
|
Follow the Onion Bag
|
Follow Sp3ktor
Copyright © 2003 - 2023 The Onion Bag