Betrayed
OLD BAG: This is an archive story from Issue 163 - 25 Sep 2006
Neville: No more cheap Spanish holidays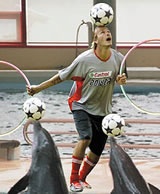 Beckham: Shying away from publicity
Cruise: Mental
Share the "Truth":

Twitter
Digg
StumbleUpon
del.icio.us
Facebook
Web Search:
Neville abandoned by 'No Mates' Beckham
England and Manchester United stalwart Gary Neville has spoken out at his shock and dismay after being discarded as a friend of former England superstar David Beckham.
Call me Billy
Neville was Beckham's best man at his wedding to Posh "Victoria" Spice, but was shocked and appalled when David told Radio One "personality" Chris Moyles that he had no mates.
"I was just left stunned", a distraught Gary told intrepid Onion Bag reporter Larry Gak. "I thought we were best mates - but now I just feel so abandoned." Neville revealed that the pair had kept in constant touch since Beckham left the Manchester United team they both grew up in, but recently communication between the two had dried up.
Cult friction
"Dave would send me a postcard from Spain every week. It was like knowing someone who was always on holiday. But since he got dropped from the England team he hasn't sent me anything - I'm worried he's fallen in with the wrong crowd."
The full-back's fear could be well founded as it appears that Beckham could be under the influence of the celebrity cult Scientology. Beckham has been taken under the wing of one of Scientology's highest Grand Wizards - actor Tom Cruise.
Immoral and socially obnoxious
Cruise, who was recently sacked by his film studio for being officially bonkers has provided emotional support to Beckham during what has been seen as the lowest point of the former England captain's career.
The Top Gun star has even offered his own wife, Katie Holmes, to play Posh in the new biopic of David's eventful life. Katie however is said to be a little worried about the script, as all her character seems to do is stand around doing nothing.

Twitter:
Tweet this story
|
Follow the Onion Bag
|
Follow Sp3ktor
Copyright © 2003 - 2023 The Onion Bag