G14 to build Death Star
OLD BAG: This is an archive story from Issue 165 - 9 Oct 2006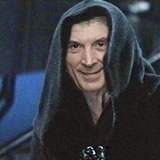 Dein: Displeased with lack of progress
Death Star: Not moon
Williams: Respectable businessman now
Share the "Truth":

Twitter
Digg
StumbleUpon
del.icio.us
Facebook
Web Search:
Technological terror 'Good for game', says Dein
Arsenal vice-chairman David Dein has been elected Emperor of the group of European superteams, G14. In a move set to shock the football establishment, his first act in charge has been to announce the development of a fully operational Death Star.
The announcement was timed to attract attention as all eyes were looking towards a week of international fixtures rather than towards their own blue-chips mega clubs and their all important sponsors.
Scum and villainy
G14, so called because it has 18 member clubs, was established in 2000 with the express purpose of getting on FIFA and UEFA's tits. Whilst that in itself is no bad thing, they only do it so that they can make more obscene amounts of cash than they do already.
The self-styled "pressure group" has had a long standing feud with international football's governing bodies over the release of players to national teams and the lack of compensation for injuries. During the recent World Cup, G14 clubs provided 22% of the players involved (and a majority of the good ones), and all they got in return was increased shirt sales and boosted interest in their teams from millions of impressionable people new to the game.
Quicker, easier, more seductive
Dein hopes that the construction of this huge deadly space station will force the hand of the ruling bodies so that they can boost their already bursting accounts with a share of the World Cup booty. "Who knows, maybe one day we'll be able to do without these meddling organisations all together", Dein mused.
Surely the national FAs are required, if only for the bureaucracy? Not so, says Dein: "Fear will keep the local clubs in line - fear of our new battle station."
Closer to the big ones
One of only two people to have destroyed a Death Star, Billy Dee Williams, told the Onion Bag's intrepid reporter Larry Gak that competing clubs will have an even bigger mountain to climb to catch up with the elite. "They'll have as much chance as making the Kessel run in less than 12 parsecs" he mumbled in a confused manner. "I used to run a city in the clouds, would you like me to sign something?"

Twitter:
Tweet this story
|
Follow the Onion Bag
|
Follow Sp3ktor
Copyright © 2003 - 2023 The Onion Bag