OWEN 'LET DOWN' BY LACK OF MEDIA SPOTLIGHT
OLD BAG: This is an archive story from Issue 17 - 9 Oct 2003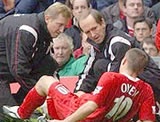 Owen, chance to shine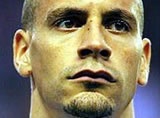 Rio, the grand usurper of the limelight
John De Mol: Checking out the reality TV prospects
Share the "Truth":

Twitter
Digg
StumbleUpon
del.icio.us
Facebook
Web Search:
Liverpool and England Striker Michael Owen announced his anger and disappointment at the lack of media coverage over the injury sustained last Saturday to his knee(Shureley it was his foot - ed).
Owen was said to be upset at the all the attention surrounding Rio Ferdinand's ban from playing in England crunch fixture against Turkey. Under the terms of England players contract each high profile footballer is entitled to be the center of media attention at least twice a year in the build up to a major England fixture. Owen's complaint is that it was his turn to hog the spotlight.
Toe
"Both myself and my sponsors feel very let down by the FA who have taken this decision to suspend Rio Ferdinand for the upcoming Turkey game due to his non attendance at some dope festival or other." Owen stated in a written er... statement, "This has led to an overwhelming amount of media coverage which has undermined my own position in the limelight which was agreed prior to last weekend."
Sources close to the striker told The Onion Bag that he was furious with the FA for turning their backs him."Michael is furious with the FA for turning their backs on him." said the source."Michael's toe injury came at the perfect time and everything was set. Sunday and Monday were fantastic. Loads 'a' press coverage, plenty 'a' speculation. 'will he be fit or won't he'. Y'know, that kind of thing. They even delayed the announement because of it. Everything was going brilliantly. Michael was over the moon.
Neck
"Then suddenly, from no where, Rio (don't laugh at my crappy goatie) Ferdinand is all over the front and back pages because he forgot to piss in someone else's pot."
The FA hit back at suggestions that they had suspended the Manchester United defender was banned because Owen's neck injury was not attracting enough interest. "We completely deny and refute any allegations of any nature from anyone given at any time." said and FA spokesperson. "We are the FA and will do what ever we want. So there."
Hip
The last word, happily enough goes to Ferdinand's club manager Sir Alex Ferguson who said: "I wonder how Rio could have been allowed to have driven away from the training ground without someone reminding him to take the dope test?" chuckled the Old Trafford legend. "What a shame fer youse poor f**king English b*****ds. Now you have to go to Istanbul without a f*****g defense, none of your f*****h knob ended fans, and looking like a bunch of prize f*****g c**ts. Anyone would think someone had planned it."
Ferguson then went on to say that he he hoped Owen's hip got better and that he had to go and see a man about a horse.

Twitter:
Tweet this story
|
Follow the Onion Bag
|
Follow Duffman
Copyright © 2003 - 2022 The Onion Bag