Transfer Window Shopping
OLD BAG: This is an archive story from Issue 177 - 8 Jan 2007
Bargains: No interest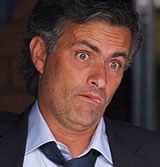 Jose: Mad
Window shopping: Must stay at least 100 yards away from
Share the "Truth":

Twitter
Digg
StumbleUpon
del.icio.us
Facebook
Web Search:
Clubs bemoan worst January sales ever
Professional footballer retailers across the country are feeling the pinch as clubs stay away from the January sales.
"We've had lots of noses pressing against the transfer window, but no money changing hands" a desperate club chairman told us (whether he was desperate or his club are desperate is unclear - probably safe to assume both.)
Do you want the hanger?
But it's not all bad news; those who have dipped their hands into their pockets have found it to be a shopper's paradise. Newly-installed West Ham boss, Alan Curbishly, was delighted with his purchase of Luis Boa Morte from Fulham: "I couldn't believe my luck: there was loads of space in the multi-storey and I didn't have to queue at the till."
Other than that only Tottenham had bought a couple of squad fillers, but then they have a medical condition meaning they must buy a player every five minutes.
Blue cross
Laughingly under-fire Chelsea boss, Jose Mourinho, blames the lack of bargains: "Just because we are unfathomably rich and desperate for a centre-half they think they can charge us ridiculous amounts for players they don't wish to sell."
Arsene Wenger told reporters that he would love to go shopping for new talent but said that baby-care provisions were hopeless.
No refunds
Head of Economics at Croydon University, Doctor Juluis Limbani, told the Onion Bag that the blame lies with clubs: "Chairman must understand that the only people stupid enough to buy whatever they sell at ridiculously over-inflated prices are the fans. God love 'em."
The League Managers Association has organised a fact-finding mission to Amsterdam to discover the secrets of a well presented window sale.

Twitter:
Tweet this story
|
Follow the Onion Bag
|
Follow Sp3ktor
Copyright © 2003 - 2022 The Onion Bag