Did MI6 get Adebayor sent off?
OLD BAG: This is an archive story from Issue 185 - 5 Mar 2007
Adebayor: Patsy
Tunnel bust-up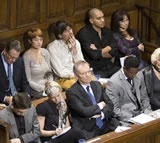 Jury: Decision makers
Share the "Truth":

Twitter
Digg
StumbleUpon
del.icio.us
Facebook
Wenger wins right for public jury
Arsene Wenger has won a landmark decision to see the inquest into the unsavoury events at last week's Carling Cup final, put before a public jury.
Secrets and Lies
The Gunners boss enraged FA officials when he out-rightly accused linesman Darren Cann of lying in his match report, which said Emmanuel Adebayor had punched Frank Lampard.
The Frenchman was left fuming at Cann's selective perception which was remarkably acute during the brawl where he spotted the punch even the victim didn't register, but was less well honed when he failed to spot Dider Drogba having missed the last bus to an onside position for Chelsea's first goal.
Deep Throat
Rumours are abound that secretive powers have been out to get Arsenal after an unpublicised spat with Prince Philip following the team's recent meeting with the Queen.
Wenger's case has found champions in the press with porn-run tabloid The Daily Express running headlines like "Adebayor was pregnant when he was sent off" between scare stories about gypsies, house prices and freak weather.
Twelve Angry Men
The jury for the case will see the cast of recent BBC2 reality show The Verdict reunited to dispense justice once more. The twelve good men and true included such luminaries as Bianca out of Eastenders, lying jailbird Jeffrey Archer, and former Liverpool star Stan Collymore.
The show centred on a fictional trial of two footballers being charged for raping a 19 year old in hotel. However, the fact the footballers were actually found guilty took all credibility from the show.
Fulham owner, Mohamed al-Fayed (himself about to enjoy his day in court) has offered Wenger his full support. His latest range of tin foil hats, exclusive to Harrods, are being supplied to all staff at the Emirates.

Twitter:
Tweet this story
|
Follow the Onion Bag
|
Follow Sp3ktor
Copyright © 2003 - 2023 The Onion Bag