Andorra sweaters
OLD BAG: This is an archive story from Issue 188 - 26 Mar 2007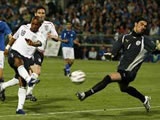 "I'll even turn my back to you - now try"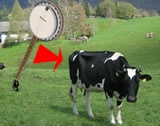 New tactics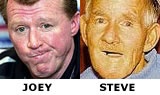 Separated at birth
Share the "Truth":

Twitter
Digg
StumbleUpon
del.icio.us
Facebook
Web Search:
Minnows fill us with terror, says Terry
England skipper, John Terry, has revealed how he and his colleagues are expecting a tough time ahead in their next Euro qualifier against Andorra.
The Israel sh*tes
Talking after England's desperately shoddy 0-0 draw with Israel, the Chelsea defender explained how ability, experience and resources are meaningless when facing teams that show a bit of determination.
"There's no such thing as an easy game in international football," he bleated unconvincingly. "In the old days you could always blame a bumpy pitch or hostile intimidation by fans for putting on a shoddy show against a bunch of no-hopers, but not any more."
Useless
Terry is desperate to get some kind of team spirit going, after the goalless draw led to a dressing room bust up between players and management: "We're all angry and determined to do better. We simply have to: who the hell is going to want any of us to endorse their products if we keep on playing like that?"
Earlier in the week, Rio Ferdinand's agent had said how the England squad in the World Cup was just a bunch lazy, jealous prima donas. McClaren's first act in charge of England was to axe the then Captain David Beckham, but it has emerged Goldenballs departure has left a power vacuum in the squad.
Fancy dans
"Everyone feels they can be top dog now that Becks is out the way," an unnamed Neville told intrepid Onion Bag reporter Larry Gak. "There are three or four guys fighting over who can take over the mantel of being the most over-rated, waste of time in the squad."
The Andorrans have revealed they will be fielding a weakened against England, as two of their star players are going to do an office leaving-do on Wednesday while another can't get out of work until 6. "I don't mind too much," the Andorran head coach and driver David Rodrigo told us. "It is only England, after all.

Twitter:
Tweet this story
|
Follow the Onion Bag
|
Follow Sp3ktor
Copyright © 2003 - 2023 The Onion Bag