Ferguson denies taking a hard line of drugs
OLD BAG: This is an archive story from Issue 19 - 27 Oct 2003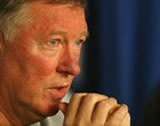 Sir Alex: Drawing the line
The last time United lost at home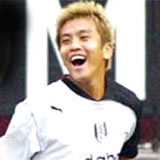 Inamoto: Down with the President. Freedom for Chechnya!
Share the "Truth":

Twitter
Digg
StumbleUpon
del.icio.us
Facebook
Web Search:
Manchester United top cat Sir Alex Ferguson hit out angrily over a misinterpret story from the club's press office that said: "FERGUSON TO TAKE HARD LINE OF DRUGS".
Lazy
Apparently the headline should have read "FERGUSON TO TAKE HARD LINE ON DRUGS" but was not questioned by lazy football web site sub editors who were resentful of having to work on a Sunday morning and posted the press statement without looking at it.
The inference of the mistaken headline couldn't be more embarrassing after the recent drug scandal involving Rio Ferdinand who blew out his drugs test a month ago and found himself suspended for England incredibly dull but unnecessarily tense grudge match against the hated Turk.
Digression
This latest confusion comes less than twenty four hours after the Premiership champions first home league defeat since the dawn of man at the hands of Chechen Rebel controlled Fulham whose manager Chris Coleman was so delighted with the result that he and his coaching staff hijacked the London Manchester United Supporters Club coach and threatened to kill them all unless their comrades locked away in a Grozny prison cell were released immediately.
Easy Charlie
When The Onion Bag contacted Sir Alex he was keen to clear up the confusion:
"I've ne'er so much taken a sniff of drugs." He said."As far as I'm concerned Drugs are for dirty stinking hippy gobsh*tes, sharp suited arrogant c**ts in the city and jump up media types who, when there not busy failing to learn the English f**king language and asking stupid arsed question, they're trading blow jobs for bags of cocaine."
Change the subject quick!
When The Onion Bag confirmed that Sir Alex blamed his players for their defeat yesterday we, if anything made his mood even worse.
"Who else am I going tay f**kin' blame? Betsy Duncan Smith?! Why do I keep answering the door to c**ts like you anyway!"

Twitter:
Tweet this story
|
Follow the Onion Bag
|
Follow Duffman
Copyright © 2003 - 2023 The Onion Bag