Sam quit truth: he just got too big
OLD BAG: This is an archive story from Issue 193 - 30 Apr 2007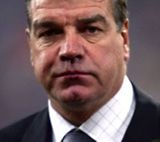 Sam: Happier times
Sam: Today (artist's impression)
Leeds fans: Facing relegation with dignity
Share the "Truth":

Twitter
Digg
StumbleUpon
del.icio.us
Facebook
Web Search:
Expansive Allardyce too much for Bolton
The Onion Bag can exclusively reveal that "Big" Sam Allardyce quit as Bolton manager because of his increasingly immense girth.
Sources close to Bolton had been concerned that Allardyce was getting larger and larger with each passing week. "Sam's getting too big for this club," an insider told The Onion Bag's intrepid reporter, Larry Gak, a couple of days ago. "He needs to leave soon while he can still get through the door."
Rotundry expenses
Bolton chairman Phil Gartside had spent thousands of pounds reinforcing the floors in "Big Sam's" office and other key areas of the Reebok Stadium such as the board room, the gents toilets and the car park where Sam used to enjoy meeting players and their agents for informal chats.
Who ate…
Allardyce's car parking space was changed from "Big Sam" to "Bigger Sam" then "Giant Sam" and finally "Morbidly Obese Sam". Eventually, the adjectives just dried up and Sam just had to go.
Quite how Sam got so big is open to question. Inevitably for a Lancashire club, pies have been blamed. Others say it is in his genes. Less credible but more accurate sources believe that he wants another job.
Going down
Newcastle and Manchester City are the obvious probable destinations for Allardyce to eventually roll up to. There was even some speculation that the big man may be the one to revive the soon to be relegated former Champions League semi-finalists Leeds United. However, the speculation was interrupted by a pitch invasion of Leeds fans.
We tried to get a comment from "Big Sam" last night but he refused to speak to us because of a previous Onion Bag story accusing him of employing African footballers at sweat shop conditions. We offered him a back-hander and everything but he still said no.

Twitter:
Tweet this story
|
Follow the Onion Bag
|
Follow Duffman
Copyright © 2003 - 2023 The Onion Bag