Roman buys Terriers
OLD BAG: This is an archive story from Issue 196 - 21 May 2007
Wrong kind of terrier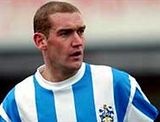 Andy Booth: Good doggie
Yap yap
Share the "Truth":

Twitter
Digg
StumbleUpon
del.icio.us
Facebook
Web Search:
Huddersfield under new ownership
Chelsea owner Roman Abramovitch has bought Huddersfield Town mistaking it for a little doggie to give to Jose Mourinho as a thank you for winning the FA Cup.
The Russian oligarch, who recently bought Manchester United and put them into administration, has purchased the club after being miss-led by its nickname "The Terriers".
Dogma
Dog lovers everywhere have been horrified by the story of the Mourinho family pet, a Yorkshire terrier by the name of Gullit, which was almost impounded after having allegedly re-entered the UK without having its little doggie passport stamped. The potentially rabid pooch was deported to Portugal over the weekend following a nasty confrontation between the Blues boss and the local constabulary.
With his family distraught and Mourinho arrested, he still managed to lead his team to FA Cup success last Saturday. So grateful was owner Abramovitch that he decided to give him a replacement to Gullitt. Abramovitch instructed his favourite hound Kenyon to "fetch me Terriers" and the faithful mutt duly returned with the mid table League One outfit.
House trained
And so it was with confusion and befuddlement that Mourinho opened his front door this morning expecting to see the usual three pints of milk and two dozen paparazzi and instead found the Galpharm Stadium plus the entire Huddersfield first team waiting outside. "It was quite a shock," he told the Onion Bag's intrepid reporter Larry Gak. "At first I was gong to send them back but the children wanted to keep them so I agreed."
Home advantage
While Andy Booth and Gary Fletcher-Taylor chase their tails on the lawn, Town Boss Andy Ritchie admits that he is having trouble adjusting to life in Mourinho's back garden but believes his team will do fine: "I may even get enough bones to strengthen my squad." he yapped.

Twitter:
Tweet this story
|
Follow the Onion Bag
|
Follow Duffman
Copyright © 2003 - 2023 The Onion Bag