Cheeky fakers
OLD BAG: This is an archive story from Issue 198 - 4 Jun 2007
Leeds: Happier times
Faked death (artists impression)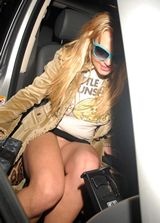 Britney Spears: Must stay at least 100 yards away from
Share the "Truth":

Twitter
Digg
StumbleUpon
del.icio.us
Facebook
Web Search:
Leeds fake their own death and still muck it up
The Onion Bag can exclusively reveal a botched plot by Leeds United to fake it's own death.
The Elland Road Club has faced crippling financial problems since the heady days of the Champions League at the turn of the decade. Now relegated to League 1 and penniless, the club went into administration and have been trying to fob off their creditors with a 1 penny in the pound settlement. With negotiations at a deadlock, Chairman Ken Bates hatched a plot to take the club off its knees and on to its back by pretending to be dead.
Look after the pennies
"We did our best to please everyone," Bates told our intrepid reporter Larry Gak. "I've managed to convince the off-shore companies to see things my way but it's those public sector wasters in the West Yorkshire Ambulance Service and that greedy, faceless corporate giant New Burley Window Cleaners who are holding out for more. Honestly, I'd had nothing but grief from them... and their labour of course."
Meow!
Bates (who doesn't officially own any shares in United) decided to have enlisted the aid of top plastic embalmer Dr Julius Limbani: A past master at making things look dead including Elvis Presley, Manchester United (about a year ago) and Herefordshire. As a sideline he's also pretty useful at making dead things look alive like Paolo Maldini, British situation comedy and Britney Spears career.
The more things change
However the plan failed as usual because of money. "My deposit cheque bounced half-way through the procedure." said Dr Limbani "Right now Leeds may not look dead but it looks pretty lifeless. Not enough to fool the Taxman mind." AJ Cockgroupier Undertakers to the Stars are also said to be owed money for Leeds' fake funeral and novelty sized coffin.
The real victims though are the fans. Supporter activist Les Dyke is furious with Bates and his miss-management of the clubs affairs. "If he thinks I'm going to carry on shelling out my hard earned cash on this club next season and like it he can think again. I'm not a complete idiot you know."

Twitter:
Tweet this story
|
Follow the Onion Bag
|
Follow Duffman
Copyright © 2003 - 2023 The Onion Bag