Credit Carbons
OLD BAG: This is an archive story from Issue 199 - 11 Jun 2007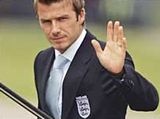 Beckham: Planetary concerns
Beckham's carbon footprint (artist's impression)
Clarkson: Easy target
Share the "Truth":

Twitter
Digg
StumbleUpon
del.icio.us
Facebook
Web Search:
Becks seeks sponsor for carbon footprint
David Beckham hopes to secure a multi-million pound sponsorship deal of his carbon footprint so he can use the money to offset his jet-set lifestyle.
Now that Beckham has been welcomed back into the England squad by a grateful nation, the LA Galaxy bound legend is set to clock up some serious mileage as he travels from the States back to Blighty to single-handedly take the national team to the European Championship next year.
Mission Impossible
Environmentalists are concerned that this constant air travel will enlarge his carbon footprint thereby bringing the Earth closer to it's doom. So Becks is offering up his eco-droppings for sponsorship. For each gram of CO2 emitted by Beckham, the sponsor will plant a tree, recycle a car or shoot a Clarkson. "I intend to be carbon neutral by 2030" says Becks "That may seem a long way off but given that I'll own my own country by then, I think it's realistic."
The most likely sponsors will be Beckham's existing footwear suppliers Adidas. "Our latest advertising campaign says that impossible is nothing" a corporate spokesperson said "And reversing the carbon footprint of a multi-millionaire is certainly an impossible task."
Speed of Sound
Beckham's green initiative has received the backing of at least one of his fellow celebrities.
"I think that what David is doing is great for the planet" said Coldplay vocalist and celebrity Gwyneth shagger Chris Martin. "It's important to show the kids that they can't expect to go jetting off around the world anymore. It's just not fair on the rest of us." he said before jumping on his private jet to New York.
Send in your money
The Onion Bag asked Bob Geldof for a comment in the hope that he could be persuaded to treat us to some of his hilarious outbursts of profanity. "Sorry mate. I only do debt relief. Now f**k off!"

Twitter:
Tweet this story
|
Follow the Onion Bag
|
Follow Duffman
Copyright © 2003 - 2023 The Onion Bag