Harry the Hammer
OLD BAG: This is an archive story from Issue 205 - 23 Jul 2007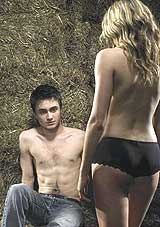 Potter: Premiership credentials
The Boleyn Ground: not Hogwarts
JK Rowling: must stay at least 100 yards away from
Share the "Truth":

Twitter
Digg
StumbleUpon
del.icio.us
Facebook
Web Search:
Boy wizard quits Hogwarts for the Boleyn
"And Harry Potter signed a three-year contract with West Ham for an undiclosed fee."
So says the last line of JK Rowling's much anticipated Harry Potter and the Deathly Hallows, the final instalment of boy-wizard bollocks from the popular author.
No spoilers here
How the book would end has been the subject of months of internet speculation. Theories ranged from 'will Harry die?' to 'will Harry not die?', but no one expected the shock ending that sees Harry abandoning quidditch for football and adopting a playboy lifestyle.
Children around the world are set to be disappointed by Rowling's unusual conclusion when they turn the last page. One fan, Pete Clifton, a single 42-year-old insurance salesman who still lives with his mum, said "I'm gutted. I grew up with Harry. For him to give up magic to play football is devastating."
Spoiler here!
The Potter books are popular with children and should-know-better adults because Rowling's rich and imaginative universe gives them a sense of belonging and knowledge they never got at school because they were probably always picked last for football.
Celebrity Hammers fan Ray Winstone said, "It's facking brilliant, innit? I couldn't give a toss about Tevez anymore now we've got Potta'. Let's hope he shows a bit of magic, eh? Wanker."
No spoiler here
The Onion Bag's Larry Gak asked JK Rowling why Harry opted for West Ham. "Well, he hasn't actually signed for them. I still own him. He's being leased to them on a complicated buy-back, non-contract, third-party ownership, swipe-as-you-play Oyster-card scheme. It means West Ham will be able to lever Harry's global appeal for marketing purposes and I don't have to get a million emails a day from kids asking me where Harry is."
But despite the end to the much-loved series, Rowling has not ruled out an eighth book. "I never say never. And Harry's career on the wing in the Premiership could be a winner. I've even got a title: Harry Potter and the Offside Trap."

Twitter:
Tweet this story
|
Follow the Onion Bag
|
Follow Castro
Copyright © 2003 - 2023 The Onion Bag