Iraq's explosive victory
OLD BAG: This is an archive story from Issue 206 - 30 Jul 2007
"It's OK. It won't go off."
A breif moment of respite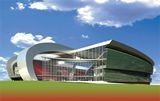 New Baghdad stadium pre-bomb damage (artists impression)
Share the "Truth":

Twitter
Digg
StumbleUpon
del.icio.us
Facebook
Web Search:
Larry Gak reports from Baghdad
There were scenes of jubilation in Iraq today as their national team won the Asian Cup Final 1-0 against Saudi Arabia. In the nation's capital, the people took to the streets setting off fireworks, guns, cars and themselves in celebration.
Heads held high
Younes Mahmood's header after 72 minutes has been hailed by the Iraqi Government as "The greatest day since the fall of Saddam" and by the Iraqi people as "The greatest day since the one before those idiot yanks turned up."
"This is a wonderful moment for Iraq," said local merchant Colonel Walton D Welkshuttle III. "Perhaps our great nation can move forward and allow us simple businessmen to funnel oil to the west in peace."
Heads blown off
Akbar Dyke, a wanted insurgent originally from Fallujah, came out of hiding to celebrate the result. "It's been one amazing day. In the last ten minutes I was so nervous I could hardly bare to listen to my short wave radio. I haven't sweated like this since my family were killed during the American attack on the city. If I had running water I'd take a bath."
Head count
With a new wave of optimism sweeping the war torn country, plans are underway to start up a professional football league. Big businesses like Halliburton and Lockheed are lining up to invest in state of the art stadia with 21st Century facilities. Iraqi FA Chief Executive Lieutenant General Ernesto Cockgroupier believes that there is a huge market to be exploited by US neo-con businessmen and deposed politicians with links to the mob. "A new soccer stadium here in Baghdad would be fantastic for the fans and could be used as an internment camp in the off-season."
Head hunted
Meanwhile back at Jakarta, goal-scoring hero Mahmood has missed his flight home. The Onion Bag managed to track him down to a two cent flop house on the outskirts of the city. "I'm waiting for a call from this agent guy called Kia. He says I am going to play for Manchester United. It is a dream come true!"

Twitter:
Tweet this story
|
Follow the Onion Bag
|
Follow Duffman
Copyright © 2003 - 2023 The Onion Bag