Cottager bonkers, says shrink
OLD BAG: This is an archive story from Issue 21 - 10 Nov 2003
Davis: The hostage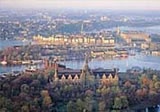 Grozny: The objective
Moyes: The Delta Force
Share the "Truth":

Twitter
Digg
StumbleUpon
del.icio.us
Facebook
Web Search:
Fears are growing for the mental condition of Fulham player Sean Davis after reports emerged this week that he has asked his Chechen rebel captors not to be released.
Eminent psychologist, Dr Julius Limbani, told the Onion Bag this type of behavior is not uncommon. Dr Limbani believes that he could be suffering from Stockholm syndrome. "It seems that he has become sympathetic to his captors cause and now wishes to join their struggle for a free Chechnya."
Stockholm syndrome takes its name from the 1958 World Cup final, where the Jules Rimet trophy was kidnapped by Bobby Moore in a Mexican Jewelry store and fell in love with a dog called Pickles, probably.
Davis, a man desperate for his freedom in the summer now seems to have been completely broken. He even scored in the 3-1 defeat to Charlton, a match in which the resurgent Fulham looked decidedly off-pace. After the game the Fulham players complained that their boots had been tampered with and itching powder had been put in their shorts. Whether these claims have any foundation are unknown however we can exclusively reveal that a mysterious, stout middle-eastern looking gentleman was seen leaving the changing room shortly before the game.
An attempt to rescue Davis in the summer by Everton failed. The Onion Bag wanted to ask David Moyes what he thought of the change of heart by Davis, but were too scared.

Twitter:
Tweet this story
|
Follow the Onion Bag
|
Follow Sp3ktor
Copyright © 2003 - 2022 The Onion Bag