CIA DROPPED SMITH
OLD BAG: This is an archive story from Issue 22 - 17 Nov 2003
Smith: Pictured here without bottle
"Keep those pinkos away from me, God damn it!"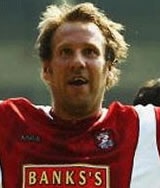 Merson. Not an international terrorist
Share the "Truth":

Twitter
Digg
StumbleUpon
del.icio.us
Facebook
Either you do it or we will, FA told
The Onion Bag has learned that Leeds fanatic and occasional goal scorer Alan Smith was removed from the England squad for Sunday's pointless friendly defeat against Denmark under pressure from none other than the CIA.
FA Chief Wotsit, Mark Palios reluctantly agreed to send Smith back to the North after deep concerns expressed by the US government that the England striker was a security risk after being arrested for throwing a bottle into the crowd during a match at Elland Road that bottom of the table Leeds were losing... again.
Shaken not stirred
Sources close to the FA told The Onion Bag that with the first ever state visit of a United States President due this coming week that Smith may take the opportunity to commit an act of unprovoked terror during the game to threaten the security of the President George W Bush even though he wouldn't have arrived yet and the game was in Manchester.
A CIA contact told me, "For all we know that could have been a Molotov Cocktail. We are simply not prepared to gamble with the safety of the President of these United States. Especially an unelected and unpopular one.
Sovereignty
"This is just one of many acts of overriding the sovereignty of our closest ally", he continued, his chest swelling with pride, "right alongside closing down the centre of London, shooting anti-war protesters on sight and just generally being unpleasant to anyone who doesn't like us which is pretty much everyone... asshole."
The England players expressed their anger at the decision to send Smith home, only hours after he had reported to the England squad to replace Darius Vassell... or was is Micheal Owen, or James Beattie. Hang on, I'll get this...
Hail to the Chief
Anyhoo. England captain David Beckham read a statement from the squad off the back of a beer mat to a press conference desperate to feed off the scraps of a slow news weekend:
"The players have registered their deep surprise and deep unhappiness at the decision to send Alan [Smith] home. We insist that the FA's selection policy be reviewed so we all know where we stand in future. Especially when it comes to influence from foreign powers."
Red Dot
Mark Palios was defiant and insisted that he had made the right decision. "We recognize the United States right to protect the movements of their Commander in Chief even when he is on the other side of the Atlantic." He said. When asked about the wavering red dot on his forehead he said that it had nothing to do with anything and then begged journalists never to mention it again.
Shut it Pinko!
However, anti-American whinge bag Belinda Holland, spokesperson for the Campaign to Stop the YAnks from Beating us at Stuff (CASYABS) believes this to be a broader attempt to undermine the sport of football itself. "The White House doesn't like football believing it to be subversive and 'un-American'." She told The Onion Bag after having woken us up after a liquid lunch. "Donald Rumsfeld himself is said to be deeply skepitical of English football, believing it to full of 'pinko scum'. They even think that Osama bin Laden himself is currently an attacking midfielder for a First Division club in the midlands."

Twitter:
Tweet this story
|
Follow the Onion Bag
|
Follow Duffman
Copyright © 2003 - 2023 The Onion Bag