Wedding Tackle
OLD BAG: This is an archive story from Issue 236 - 3 Mar 2008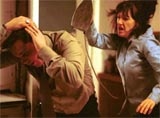 Little Mo Sissoko
Cole: any hole's a goal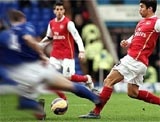 Taylor: got the ball
Share the "Truth":

Twitter
Digg
StumbleUpon
del.icio.us
Facebook
Web Search:
Taylor alledged to have gone studs-high into Andrew Cole's wife
Birmingham City's misunderstood 7'3" assassin Martin Taylor faces more controversy today. Allegations are known to have been made that his former Blackburn and City teammate Andy "Andrew" Cole paid Taylor to tackle his wife, citing the fact she called him Andy and mocked his music career.
Back and to the left
Taylor recently made the headlines for all the wrong reasons after killing Arsenal's unlikely Croatian substitute forward Eduardo da Silva stone dead with a high-powered tackle from the sixth floor of the Texas School Book Depository. Already facing a lengthy ban for that incident, the fresh allegations could not have come at a more boring time.
Say hello to my little friend
The club managers of both men last night leapt to the defence of their average squad players. Beetroot-faced, furious Scotch Birmingham manager Alex McLeish told The Onion Bag, "He's a gentle giant, who'd never dream of hurting anybody. On the contrary, he only hurts people when he's wide awake."
Cole's boss, crazy-eyed psychopath Messiah Roy Keane defended both men saying, "I defend both men," picking pieces of Alf-Inge Haaland's thigh out of his teeth. Meanwhile, Cole's current coach during his loan spell at Burnley, Owen Coyle, added to the chorus, suggesting that the allegations were a slur on the character of one of the game's true gentlemen and greatest rappers.
None of our business
Eight goal in the last three years Cole - who in recent years has requested that he be known as Andrew to avoid confusion with Andy Cole, the legendary 40 goal-a-season Newcastle and Manchester United poacher - seems set to fight these latest claims and attempt to clear his reputation.
He will surely be heartened by the overwhelming number of former colleagues and coaches from club and international level stepping forward to voice their support. Speaking exclusively to The Onion Bag's intrepid Larry Gak - who was dressed as the emir of Kuwait - on his yacht in the Mediterranean, Cole's former England manager Sven-Goran Eriksson suggested that the allegations were absurd. "Andrew Cole as a domestic abuser? I just don't see it. For one thing, he would need ten attempts before hitting the target," Eriksson chuckled, before expressing a desire to manage Aston Villa with 43-year old David Beckham as their captain.

Twitter:
Tweet this story
|
Follow the Onion Bag
|
Follow Dotmund
Copyright © 2003 - 2023 The Onion Bag