Red Scare
OLD BAG: This is an archive story from Issue 258 - 4 Aug 2008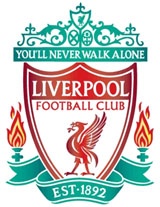 Liverpool FC - Beloved of all
Robbie Keane - completely deluded
The expectant public
Share the "Truth":

Twitter
Digg
StumbleUpon
del.icio.us
Facebook
Web Search:
This is the worst thing that could have happened, says new Liverpool star
New Liverpool signing Terry Average has issued a 'come and get me' plea to "anyone, absolutely anyone" this week, after it was revealed that he hates Liverpool Football Club and that signing for them was "a bloody nightmare".
Scouse gits
Sat in the Kop alongside fellow summer signing Robbie Keane for a photoshoot, Average could not disguise his disdain. Whilst Keane described his move to "the club he loved as a kid" as "a dream come true", Average was significantly more restrained in his praise. "I can't bloody stand this team. I've always hated them. Kenny Dalglish, Ian Rush, Kevin Keegan, Bill Shankly... bunch of wankers". A summer signing from Norfolk giants Norwich City, Average was seen being literally dragged kicking and screaming from a Carrow Road office. "He always feared this day would come," explained his agent, "he was horrified to note that, year-on-year, he was turning into a brilliantly talented player. Last season he told me he had started to think a big club might come in for him and that he was terrified it might be Liverpool".
Thieving Scouse gits
Asked about the club's distinguished history and global reputation, Average was unmoved. "Reputation and history count for nothing. I hated this club when I was a child and they were winning everything, I hate them more now because they've managed to graft consistent failure to everything else. Look at this club badge. I mean, what the f*ck is that supposed to be, a f*cking duck?", wept Average to The Onion Bag's board certified psychotherapist Dr Julius Limbani .
Heysel
A clearly distressed Average continued, "It's not that I'm a big Everton fan or love Manchester United. I actually support FC Argeş Piteşti. I just hate this shower of b*st*rds. They think they're so great with their little red shorts and their bloody Bob Paisley, but basically they can stick it right up their ar*e." Rumours abound that Average now plans to sabotage his own career in order to force a transfer away from Anfield. To this end, he ate three Battenburgs and drank a yard of Watney's Red. Reminded that Harry Kewell's Liverpool career lasted for over five years, however, he wept again.

Twitter:
Tweet this story
|
Follow the Onion Bag
|
Follow Dotmund
Copyright © 2003 - 2023 The Onion Bag