Lead on mcbecks
OLD BAG: This is an archive story from Issue 261 - 26 Aug 2008
Hoots mon!
Boots mon!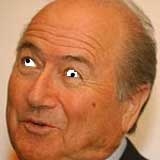 Coots mon!
Share the "Truth":

Twitter
Digg
StumbleUpon
del.icio.us
Facebook
Web Search:
Galaxy star must become a Scot to avoid civil war
David Beckham has launched an audacious bid to become a Scottish citizen and play for their national team. The bid comes in the wake of a power struggle between England and Scotland over the fate of the British Olympic team.
Gold
As Britain's Olympians return to their day jobs, highly paid football officials are locked in conflict about whether to field a GB team in an international football tournament that is being held in the UK which they don't have to qualify for.
Silver
Beckham believes that by becoming Scottish, he will be able to heal the rift between the two nations and reconcile centuries of war, power sharing, tedious Shakespeare plays and Lorraine Kelly obsessions. "I hope to inspire my new countrymen and lead Britain to Olympic gold in 2012 while at the same time prolonging my international career without the need for oxygen tents, media manipulation or having to ask Tom Cruise for a favour," he said.
The Scottish FA are implacably opposed to the idea, mainly for political reasons. They are also deeply concerned that Frank Lampard will not have retired in four years time.
Bronze
English FA Chief Executive Brian Barwick was in favour of the idea: "A unified team will be great news for England and give us a back door we need to finally break the Jocks and take over the UK thereby confirming the Scots deepest suspicions, " he said shortly before he was sacked.
However, FIFA have reacted coolly to Beckham's feeble attempt to put a positive spin on his fading powers. "This idea has got as much chance of happening as LA Galaxy reaching the Play-Offs," a FIFA insider told us. "It is the stupidest thing I ever heard and I know Sepp Blatter."
DQ
Nevertheless, the Government think its a great idea and the Home Office's Diversity minister Nik Dogbolter hopes FIFA will reconsider. "'at Beckham is weld clarss innit?" he said "'em sweatys'll come rarnd. An' the bog-trotters... 'ey should join up wif da sarf innit? As fer the Taffs... too busy shaggin' 'em sheep... BAAAAAAAAAAAAAA!"

Twitter:
Tweet this story
|
Follow the Onion Bag
|
Follow Duffman
Copyright © 2003 - 2023 The Onion Bag