Transplant Window
OLD BAG: This is an archive story from Issue 279 - 5 Jan 2009
Benitez - has first dibs on your spleen
Daniel Agger - there is no 'I' in team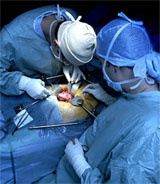 Emile Heskey - subject to a medical
Share the "Truth":

Twitter
Digg
StumbleUpon
del.icio.us
Facebook
Web Search:
Benitez plans January body harvest
Liverpool's it-hurts-when-I-pee boss Rafa Benitez plans to sign "several" players in the January transfer window solely as organ banks for his title-chasing squad. The Spaniard's own recent health scare, which has seen him confined to the stands following a kidney stone operation, is said to have opened his eyes to a potential stumbling block he had not previously considered.
Liver Pool
"The Premier League ees a squad game, not a team game. You can't win this title with just eleven players, any more than you can win it with just 22 functioning kidneys", Benitez screamed to The Onion Bag's intrepid urinal lurker Larry Gak. "Sammy Lee told me I should make use of the youth set-up if any of our players need a new bile duct or such for the Champions' League quarter-finals, but I don't want to leave anything to chance. Our youth system has produced some outstandingly juicy-organned players, but those players I chose for their football. At most, I'd only want to take from them the lung or an ear. I want to be sure the new ones I breeng in are here for their blood type alone. Real heart and leever material."
Robbie Spleen
Benitez is believed to have sent an unprecedentedly large scouting team all over the globe, asking players to wee into cups. It has also been noted that players leaving Anfield have been turning up at their new clubs decidedly lighter on organs than might be expected for a professional sportsman. John Arne Riise, who signed for AS Roma in the summer, is believed to have arrived at the Stadio Olimpico for his medical missing three toes, a kidney and both corneas. Meanwhile, Robbie Keane is understood to have been promised a run in the first team in exchange for three feet of his large intestine and a heart valve.
Sepp Bladder
FIFA have so far declined to intervene, merely stating that, so long as the player gives their full informed consent, Liverpool are allowed to hoard as many knees and pancreases as they like. However, with the trend looking likely to widen, UEFA President Michel Platini is keen to institute a 'six bits' policy, stating that to be eligible in UEFA-sanctioned competitions, all players must have at least six of their original body parts.

Twitter:
Tweet this story
|
Follow the Onion Bag
|
Follow Dotmund
Copyright © 2003 - 2023 The Onion Bag