The snow must go on
OLD BAG: This is an archive story from Issue 280 - 12 Jan 2009
Crouch: Not enough snow
Clough Jnr: Young big 'ead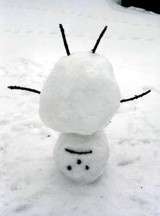 Winter World Cup: Australia qualifies
Share the "Truth":

Twitter
Digg
StumbleUpon
del.icio.us
Facebook
Web Search:
Fans warm to snowman capers
The disruption caused by the recent severe weather conditions resulted in a rare outing for the joint-FA and Football League's 'Build the Best Snowman' competition over the weekend.
Last seen in December 1992, the wintry contest is a way of enabling players to compete even when matches are postponed. By building a better snowman than the opposing team, points can be earned by all clubs across the country, thereby ensuring a continuity of play for all concerned.
Snow shortage
This weekend's action saw Portsmouth continue to slide down the Premier League table when the Pools Panel voted in favour of Man City's effort at Fratton Park. The home side took an early lead when their snowman - modelled on star striker Peter Crouch - began to take on many of the gangly, gawky characteristics the judges were looking for.
However with 20 minutes of the contest remaining and Man City's effigy of former chairman Peter Swailes nearing completion, the home side realised they'd used up all their available snow to create their scale model of the 6 foot 7 inch attacker and the snowman ended the game far from finished.
Controversy
In the Championship, meanwhile, there was controversy as Sheffield United claimed Norwich City had bought their snow from an illegal third-party supplier prior to Kevin Blackwell's side winning at Bramall Lane. The FA have said they'll launch an enquiry into the matter next month.
Elsewhere, Nigel Clough was the toast of Derby County as he picked up his first three points as manager of the club. A club spokesman said after the match "We felt the honourable thing to do was to build our snowman with a big head like Nigel's dad, and luckily for us the judges loved it. They said we got extra marks for originality where that was concerned."
Coupe du Monde d'Hiver
Normal football fixtures are expected to return next weekend, however with the recent snowman competitions proving to be so popular, it's felt that FIFA may decide to inaugurate a special Winter World Cup in time for 2010. If so, England have already indicated an interest in hosting the event.

Twitter:
Tweet this story
|
Follow the Onion Bag
|
Follow Chris O
Copyright © 2003 - 2023 The Onion Bag