a hero reborn
OLD BAG: This is an archive story from Issue 282 - 26 Jan 2009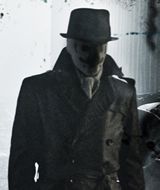 Robbie Keane (artist's impression)
Heroes all
Tights: Must stay at least 100 yards away from
Share the "Truth":

Twitter
Digg
StumbleUpon
del.icio.us
Facebook
Web Search:
Keane becomes crime-fighter after Rafa snub
Robbie Keane is the latest attacking footballer to be inducted in the crime-fighting team the League Of Unwanted Strikers.
The League was originally set up for has-been strikers, cast aside by their clubs, to give their lives meaning. Once they'd stop banging the goals in, they began banging up the perps up... in jail.
Caped crusaders
Keane, dropped for the Cup by his manager, looks set to have his boyhood dreams of playing for Liverpool ripped asunder in favour of the 4-3-2-1 formation. It was for this reason that the invitation to join the League has come before his inevitable transfer to Barnsley.
Some of the more prominent members of the League are Ade Akinbiyi, Robert Fleck, Darren Bent, Robbie Keane, Sergei Rebrov, Andrei Shevchenko, Jimmy Greaves and Robinho (tbc).
The League Of Unwanted Strikers have pledged to fight crime through the medium of lying in wait in the shadows and pondering their miserable existence while adopting a moody countenance (Cowls are optional). While, for insurance purposes, very little crime actually gets fought, the heroes do look very cool standing their with that tortured soul/victim of a terrible injustice look about them.
Who watches...
These days the League is a vast organisation, has a membership of thousands and a sprawling bureaucracy. Many believe that they are more concerned by their commercial activities rather than serving the public. However, according to their number one fan, Knob Bjellend, the League play a vital role in our society.
"Without the League, these guys would have nothing but the grim reality of their own failure," he said. "In many ways they're an allegory of everyday life: shattered dreams, the search for nobility in a world that doesn't understand me. Plus tights... lots and lots of tights."

Twitter:
Tweet this story
|
Follow the Onion Bag
|
Follow Duffman
Copyright © 2003 - 2023 The Onion Bag