bale-out
OLD BAG: This is an archive story from Issue 284 - 9 Feb 2009
'What happened, did we score?'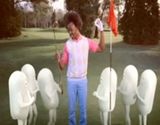 Tic Tacs: Other minty flavoured pellets are available
Twat in a cape
Share the "Truth":

Twitter
Digg
StumbleUpon
del.icio.us
Facebook
Web Search:
Movie star has the answer for ITV
The Onion Bag has learned that ITV chief Michael Grade has asked Hollywood movie star Christian Bale about a job at the hapless broadcaster.
The commercial TV station is in hot water with the FA by transmitting an advert during extra time of the Everton v Liverpool FA Cup replay.The game, which had been rapidly losing viewers throughout the evening as people,nodded off, put the kettle on or hung themselves in despair had gone into extra time. Unfortunately, for those few remaining viewers, the only goal was scored when most of the country was watching actors dressed up as giant Tic tac.
Say your f**king sorry you c**ts
While not being the only TV channel to mess something up last week, the gaff has been compared with other broadcasting scandals like Sachsgate, Thatcherfence and Clarksonville. One thousand people rang in to complain about how appalled and outraged they were. Some complainants even rang back to complain that their initial whinge hadn't removed their own personal feelings of self-loathing and lack of worth.
Dignity in the workplace
Christian Bale has been identified by Grade as the man to shake up the ITV Transmission Suite. He feels that what his staff need after having made such a costly mistake is to be humiliated and degraded by a self-important sociopath with no obvious social skills. Speaking to the Onion Bag's intrepid reporter Larry Gak, an ITV insider said "We feel the team would benefit from a guy as driven as Christian. He is one of Hollywood's heavy-weights actors. You only need to look at his movies to know that."
The actor is still working on the latest Terminator film and would not be able to take up any new position until after his next movie 'Dark Knight & The Three Stooges Meet The Wolfman'.
Flippin' 'eck Tucker!
ITV were already under fire by critics for not making the FA Cup interesting enough. Many were stunned when they failed to anticipate Man City getting knocked out in the third round. ITV have responded by announcing that the quarter final draw will be made by Todd Carty and John Sargeant.

Twitter:
Tweet this story
|
Follow the Onion Bag
|
Follow Duffman
Copyright © 2003 - 2022 The Onion Bag