Taylor v Ronaldo The Rematch
OLD BAG: This is an archive story from Issue 288 - 9 Mar 2009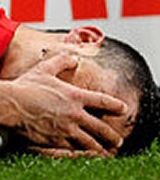 Ronaldo: Takes it on points
Taylor & Ronaldo: Preparing for the next bout
Over in a jiffy
Share the "Truth":

Twitter
Digg
StumbleUpon
del.icio.us
Facebook
Web Search:
Rumble In The Tunnel II sells out
Tickets are sold out for the Stephen Taylor v Cristiano Ronaldo rematch at the 02 Arena this month.
The pair's legendary dust-up last week at St James' Park will be remembered by fight fans as one of the greatest bouts ever. Now, Ernesto Productions in association with King Don Promotions have hastily arrange a rematch at the glamorous shopping mall and gig venue in London's fashionable east end.
Hokey sports
The rules of the contest will be based on Ultimate Name-Calling Championship which is the eighth fastest growing spectator sport in Iceland. Two players enter the ring and slag each other off until one of them loses patience and takes an unconvincing swing at the other. The winner is the player who either rolls around on the canvas or whose name is mentioned the most in the referee's report to the governing body.
"Ultimate Name-Calling is set to take the world by storm," said the event promoter Ernesto Cockgroupier. "The contestants dress up like Mexican wrestlers and writhe around on the floor. It's good clean fun."
Thing is I'm a bit short...
For those unlucky enough to miss out, the fight will be covered live by Setanta Sports who have just signed a five year deal to cover Name Calling. "We are proud to be associated with this exciting new sport," a spokesman for the troubled broadcaster told our intrepid reporter Larry Gak. "We believe our viewers will come to love Name Calling and it will make up for all that Premier League football they'll be missing out on. Now was it a full subscription you wanted or just Setanta 1 & 2...? Hello? Are you still there?"
Pay per view
Not everyone is in favour of the big fight however. Community activist Les Dyke believes it sends the wrong message to the impressionable youth. "Kids will see their heroes slagging each other off and copy them in the playground," she said. "Besides, these bouts never last more than thirty seconds. They're almost as short as Amir Kahn fights."

Twitter:
Tweet this story
|
Follow the Onion Bag
|
Follow Duffman
Copyright © 2003 - 2023 The Onion Bag