Bus Kop
OLD BAG: This is an archive story from Issue 289 - 16 Mar 2009
Slogan: Harsh but fair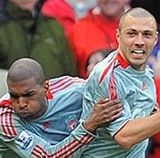 False hope
Shankly: Largely apocryphal
Share the "Truth":

Twitter
Digg
StumbleUpon
del.icio.us
Facebook
Web Search:
Scousers livid over anti red slogan
Liverpool fans are up in arms over a bus advert which says that the Reds will not win the League.
The sign which states: "There's probably no chance of Liverpool winning the League so relax and enjoy life" is currently displayed on three buses in the Merseyside area.
True unbelievers
The ads were paid for by a group describing themselves as title atheists. They have become concerned by the amount of propaganda in the media from Liverpool supporters who believe in the existence of a Premier League Championship win.
"Everywhere I look its all about Liverpool winning the Premier League," said Les Dyke, a spokesman for the atheists. "It's got worse since the win at Old Trafford. So many people think that paradise awaits them at the end of the season but they don't realise that there is no evidence that the Title exists."
Revisionism gone mad
Dyke denied any connection with a more extreme group of Liverpool fans who believe that the club never actually won the championship. "It states quite clearly in the Holy Rothman's Guide that Liverpool have been champions before. Many of the elders speak of a time when the Kop chanted the names of Keegan and Souness. I have no doubts that these people were real. Although I think that Bill Shankly probably never existed."
Mainstream Liverpool fans are outraged that the adverts have been permitted and claim that their beliefs are being abused. "These adverts are an insult and an attack on the Scouse nation," said top Liverpool fan and washed up 80's playwrite Alan Cheesetail. "It's yet another example of how people from Liverpool are mocked and humiliated. They wouldn't treat us like this if we were black."
The truth
But the idea is catching on with similar campaigns planned in other cities. In Newcastle there will be a slogan which says "Mike Ashley has the club's best interest at heart" and in Luton there will be an ad stating that "In truth we're a bunch of welches who should've been kicked out of the league ages ago."

Twitter:
Tweet this story
|
Follow the Onion Bag
|
Follow Duffman
Copyright © 2003 - 2023 The Onion Bag