KANOUTE BEHIND BARS
OLD BAG: This is an archive story from Issue 29 - 5 Jan 2004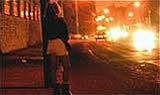 Pleat: home turf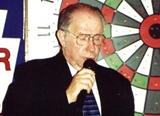 Was Fredi on board?
No, he wasn't
Share the "Truth":

Twitter
Digg
StumbleUpon
del.icio.us
Facebook
Web Search:
Yanks in anti Mali melee
Sulky Spurs star Freddie Kanoute was sensationally detained by Federales and spent Saturday night behind bars, the Onion Bag has learned.
Gang Bang
Mere hours after banging in a hat-trick against new manager Ian Dowie's Crystal Palace in the FA Cup, Kanoute was banged up by a gang of shady Government types wearing earpieces and sunglasses, even though it was dark.
CIA Again?
It is thought his arrest is the latest incidence of CIA interference in our beloved national game when it was revealed that Freddie's name appeared both on America's list of wanted, international terrorists, and the passenger manifesto of much delayed British Airways flight 223 to Washington.
Your Trusty Old Bag
But as it turns out, we can reveal that Freddie's arrest was orchestrated by none other than Tottenham's Technical Caretaker of Football Coaching and Winning, David Pleat, in what can only be described as a shady, kerb-side deal. Or a bare-faced lie.
On The Game
Pleat was spotted slowly driving his car down a dimly lit side street near White Hart Lane shortly after Freddie had fired his side into the fourth round of the Cup. He was soon approached by a leggy trollop in a mini-skirt, who then got into the car. She emerged a few minutes later, sucking on a mint. Pleat drove off so we felt brave enough to approach to his "associate".
TV Star
She turned out to be a 'he'. Imagine that! "I work undercover," Ursula (not real name) confided with the candour. "I'm a CIA agent really." The Onion Bag said nothing. "I suppose I shouldn't have admitted that," he/she continued lamely. "What with all my training, and all. But I've just got some vital intelligence. Apparently this Kanoute guy is really a terrorist. After all, he's not white," at which point the Onion Bag made its excuses and left.
Cheap Conspiracy?
Any suggestion that Pleat was trying to spoil Kanoute's laughable decision to play for Mali in the Cup of African Nations was laughed off the manager when we caught up with him later. "I know the population of Mali. And Freddie's not one of them, so f~@# off!"

Twitter:
Tweet this story
|
Follow the Onion Bag
|
Follow Castro
Copyright © 2003 - 2023 The Onion Bag