Messiah Wars
OLD BAG: This is an archive story from Issue 292 - 6 Apr 2009
Clubs: Tug 'o' war
Shearer: Happier times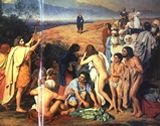 St James' Park (all last week)
Share the "Truth":

Twitter
Digg
StumbleUpon
del.icio.us
Facebook
Web Search:
Saints claim Shearer rights
Southampton have lodged an official protest to the FA against Newcastle who have claimed messiah rights over their latest manager Alan Shearer.
The Saints are on the verge of financial meltdown and sit second from bottom of the Championship. They desperately need a Messiah of their own to help them in their hopeless fight for survival. As a former Saints striker, Shearer was perfect for the job. However, the club were astonished to find last week that he had pitched up at St James' Park instead.
No tedious Python reference
"We have written to the FA requesting that they investigate the claims that Shearer is Newcastle's Messiah." a club spokesman told our intrepid reporter Larry Gak while hassling him for some change. "We feel very strongly that Alan was our messiah and am certain that his employment at Newcastle United is a clear breach of the regulations on Messiah recruitment. We believe that a club is not allowed to employ two chosen ones in a season and Newcastle started the season with Kevin Keegan who was also a messiah."
Devil in the detail
The FA have promised to rule on the matter however, Dr Julius Limbani, Head of Sports Related Idolatry at Croydon University believes that Southampton have misread the rules. "It clearly states that a club cannot recruit two messiahs in a season. While Keegan was employed in the same season as Shearer, he was recruited last season."
"If that's true then the law is an ass" said erstwhile Saints chairman Rupert Lowe who's club managed to avoid a 10 point deduction by putting the company that owns Southampton FC in to administration rather than the club itself. "The way some people deliberately exploit loop holes in the system is just not Cricket."
Bureaucracy gone mad
A decision will not be made on the matter until June. Critics are furious that we will not know if any points won under Shearer will be deducted until well after the end of the season. However, the FA and most pundits, do not believe that a points deduction will be necessary.

Twitter:
Tweet this story
|
Follow the Onion Bag
|
Follow Duffman
Copyright © 2003 - 2023 The Onion Bag