Sol in the head
OLD BAG: This is an archive story from Issue 318 - 5 Oct 2009
Campbell: Taller in more ways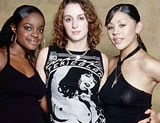 Sugababes: Must stay at least 100 yards away from the all new Sugababes
Sven: Knows how to handle girl bands
Share the "Truth":

Twitter
Digg
StumbleUpon
del.icio.us
Facebook
Web Search:
Campbell joins the Sugababes
Sol Campbell has stunned the worlds of football and music with a shock announcement that he is to be the latest member of the Sugababes.
Set faces to 'stunned'
The former England centre-half stunned everyone just last month by rejoining his former national team manager, Sven Goran Eriksson, at shadily monied Notts County only to stun everyone again by walking out on them three weeks later after realising they were in League 2.
"I'm impressed with the set up and they already have a firmly established transfer policy," beamed the former Spurs and Arsenal man. "I've spoken with Heidi and she's told me about the plans they have to bring more players in during the next transfer window."
Transfer merry-go-round-round, baby
Campbell has denied that the vacancy in the girl band created by the departure of the last of the original line-up, Keisha Buchanan, led to his hurried exit from Notts County. "It's a complete coincidence," he insisted yesterday, unconvincingly.
Last night, officials at Notts County refused to rule out legal action if it emerges that the Sugababes in any way tapped up their star summer signing. Director of football, Sven Goran Eriksson, was said to be watching the girl group "very closely".
***STOP PRESS***
Sol Campbell has left the Sugababes, a brief statement from his management team cites the "non-football" nature of the Sugababes as the main reason for his shock departure.
He will be taking a break from the business for a short while before pursuing solo projects.

Twitter:
Tweet this story
|
Follow the Onion Bag
|
Follow Sp3ktor
Copyright © 2003 - 2023 The Onion Bag