Summertime Blues
OLD BAG: This is an archive story from Issue 321 - 26 Oct 2009
Ferguson: it's what-o-clock?!?!
Daylight saving time: always confusing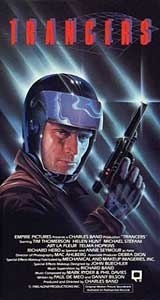 Jack Deth: time-travelling cop
Share the "Truth":

Twitter
Digg
StumbleUpon
del.icio.us
Facebook
Red-faced Fergie furious over missing hour
Manchester United boss Alex Ferguson is raging over the amount of extra time played during his side's 2-0 defeat to Liverpool. Ferguson claims there should have been at at least an hour of extra time because of the change in British Summertime.
"The clocks went back. That means we all lost an hour. But I didn't see that hour in the game," he frothed. "The referee only added five minutes, Once we conceded the second goal, there was no hope for us."
Time after time
United regularly enjoy generous amounts of extra time when they are losing, but failed to grab their customary and barely deserved last-minute equaliser or winner in yesterday's match.
Ferguson stormed into the referee's changing room after the match and demanded an explanation from officials.
Referee Andre Marriner explained, "British summertime is the practice of advancing clocks so that afternoons have more daylight and mornings have less. We've been doing it since 1916," he told The Onion Bag's intrepid reporter Larry Gak while referring to Wikipedia on his iPhone. "It has nothing to do with football."
Double Secret Probabtion
But Ferguson is not satisfied and is demanding for the hour to be reinstated. "I'd go so far as to demand Double British Summertime," he added, also referring to Wikipedia on an iPhone.
Jack Deth
While FA and Premier League officials have dismissed Ferguson's time-shifting tirade as madness, sycophantic Sky TV bosses have warmed to the idea. "Back in 1989 we showed a hokey science fiction film called Trancers, which featured a "long-second wristwatch" that stretched time. We're fairly confident we can make this available on Sky Plus boxes next year, and extend it to actually work in day-to-day life by, oh, let's say next March. Sign-up now and save £10," they droned.

Twitter:
Tweet this story
|
Follow the Onion Bag
|
Follow Castro
Copyright © 2003 - 2023 The Onion Bag