The Neville made me do it
OLD BAG: This is an archive story from Issue 328 - 27 Jan 2010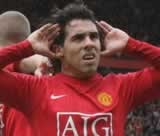 Tevez: He's got previous
The number of the beast
RMS Olympic: Name protected
Share the "Truth":

Twitter
Digg
StumbleUpon
del.icio.us
Facebook
Web Search:
Carlos Tevez: a man possessed
Carlos Tevez broke down in a radio interview the other day revealing that his recent erratic behaviour has been caused by demonic possession: "the Neville is trying to steal my soul."
Famous body swerve
Tevez, whose time in the UK has been shrouded with controversy, was speaking in the wake of his Carling Cup antics during which he taunted the Manchester United bench with his impersonation of Italian puppet "Topo Gigio". This seemingly unprovoked attack inspired one outraged United substitute to retort with his own impression of Fingermouse.
Lost in translation
On a radio show in his home country and gripped in a fever of rage, the Argentine started speaking in tongues (well, something that wasn't English), babbling curses towards one known as Tarado - the one who sucks socks. The beast takes many guises and assumes many names: some know him as the Neville, others simply as "Gary".
The managers of both clubs have played down the incident and called for calm before the second leg. However most media outlets, including your very own Onion Bag, have agreed to continue to stoke this petty spat up, as it's far more interesting in a slow news week.
Limp pick
Meanwhile, one of Tevez's former clubs have found themselves in hot water over their pipe dream to rename themselves West Ham Olympic.
The Hammers, recently procured by former Birmingham owners and dildo salesmen David Gold and David Sullivan, have been told they cannot make the change as it falls under the copyright of the International Olympic Committee and the White Star Lines steamship company. White Star Lines have though offered the name of the Olympic's sister ship instead; as such, fans can expect West Ham Titanic shirts to be on sale from the start of next season.

Twitter:
Tweet this story
|
Follow the Onion Bag
|
Follow Sp3ktor
Copyright © 2003 - 2023 The Onion Bag