Tactisch Truck
OLD BAG: This is an archive story from Issue 335 - 21 Jun 2010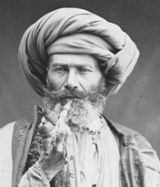 Falco Vlimvlam (artist's impression)
Terry: Anxious to fill gash
Lady Gaga: Must stay at least 100 yards away from
Share the "Truth":

Twitter
Digg
StumbleUpon
del.icio.us
Facebook
A tactical report on England from a Dutch legend
The name Falco Vlimvlam is known only to a select few students of football tactics. He was the revolutionary Dutch coach of Go Ahead Eagles in the early sixties and although his philosophy of Krypto-Anarcist Tacticalism won him few friends at the time, he is regarded by his disciples as the progenitor of Total Football practised by Ajax and the Dutch national team.
Yesterday, Vlimvlam visited the England training camp and has delivered his verdict exclusively for the Onion Bag.
Culture schock
"England's biggest problem is their lack of depth. Almost every play list on their iPods contain vacuous, soul-less pop music of the Lady Gaga and Phil Collins variety.There is not one progressive rock album or Avant-garde crack-jazz fusion mix between them. England fans should ask their players, where is the Krautrock?
"I have also noticed that there are far too many players laughing at James Cordon to be considered healthy.
No cracking off at the back
"Another area of concern is at the back, of the team coach. The area is littered with empty crisp packets and tubes of a local libido suppressant secreted from Buffalo bottom spots. The stench is unbelievable! Although the cream is rather fragrant.
"Also, I have identified a problem with John Terry's positioning. I'm concerned that he is imposing himself on his full back's front end. In his anxiousness to fill any gash in front of him he is in danger of leaving England's PR backs and sponsorship halves dangerously
Seminal fluidity
"Capello's tactics are all wrong. When I was coach of Go Ahead in 1972, we used a 0-0-0 formation with the players delivering seminars on Existentialism and Social Change in the Netherlands in the opposition final third. The results were devastating. We went unbeaten for the whole season but no one stayed awake long enough to record the results
"Rinus Michels was a a big fan of my tactics and wanted to implement them for Holland. But Johan Cruyff wanted to play a bit more football. Whatever."

Twitter:
Tweet this story
|
Follow the Onion Bag
|
Follow Duffman
Copyright © 2003 - 2023 The Onion Bag