RIO'S DIRTY PROTEST
OLD BAG: This is an archive story from Issue 39 - 22 Mar 2004
Rio: Dirty protest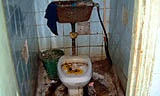 Forgot to Flush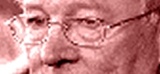 Ferguson: Jobbies
Share the "Truth":

Twitter
Digg
StumbleUpon
del.icio.us
Facebook
Web Search:
The longer lasting story
Banned England and Manchester United defender Rio Ferdinand has not given up his fight to play for club and country again before the end of the FA-imposed eight month ban for missing a drug test.
After losing his appeal, Ferdinand plans to protest against the ban by sending his piss to the FA. Our reporter Larry Gak caught up with Ferdinand in a Moss Side bog.
Andrex
"Manchester United's lawyers tell me this is the best thing to do," said Ferdiand as he filled a measuring jug. "I've got nothing to hide. They can see all my waste, including the brown stuff, if they think I'm dodgy," added the defender before squatting down in a dingy cubicle and holding the decrepit door shut with his Nike-clad foot. "Bugger. You got any paper, mate?" Ferdinand asked.
Jobs worth
Ferdinand is not the only one sending fecal treats to the FA. Boss Alex Ferguson is giving his full support to the England star. "Oh aye. Ah popped a few jobbies in the post this morning. An am off for a curry tonight, so you can guess what I'll be sending tomorrow," he added gleefully.
We asked England supremo Sven-Goran Eriksson what he thought of the protest. "Yes, it is a mess, and really needs to be cleaned up. It is a stain on Rio." Asked if he would be adding his excreta to the protest, he declared: "It is, er, too early to tell. Rio is a very talented player and we will miss him in Portugal. But I may yet crimp off a length or two and deposit it at Soho Square."
Round the bend
Whether such a deluge of human filth raining down on Soho Square will convince FA brass to change their minds remains to be seen. A spokeman said this morning: "I can confirm that we have been taking the piss - Rio Ferdiand's and others connected with Manchester United. But the FA Appeals Committee has made its decision and there will no more movements on that. Everyone's been under strain in the past few weeks. It's time to let the incident pass and when Mr Ferdinand's ban is over, we'll wipe it clean. The slate, that is, and call it squits. I mean quits..."

Twitter:
Tweet this story
|
Follow the Onion Bag
|
Follow Castro
Copyright © 2003 - 2023 The Onion Bag