Palace fans Detained
OLD BAG: This is an archive story from Issue 48 - 1 Jun 2004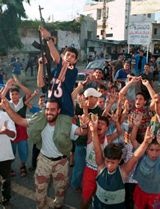 Palacestinians: Struggling for freedom
Skytrooper: Iron fister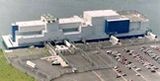 Prison Barge: Selhurst On Severn
Share the "Truth":

Twitter
Digg
StumbleUpon
del.icio.us
Facebook
Web Search:
New anti hooligan laws wreak havoc on Welsh border
There was chaos on the English-Welsh border this weekend when 20,000 Crystal Palace supporters were refused re entry into England while on their way back from watching their team beat West ham in the Division One Play Off Final at Cardiff's Millennium Stadium.
'66 and all that
The Croydonians had crossed the Welsh border dreaming of Premiership glory for their beloved Eagles only to discover that in the time they were away, new government anti-hooligan legislation had been passed ruling that all English football supporters who left England without a note from Home Secretary David Blunkett would immediately have their British passports torn up in their faces.
The now stateless Palace supporters are currently being held in a floating detention Centre on the river Severn. The Croydonians were forced to watch rival supporters of West Ham United, who were allowed passage thanks to a clause in the new legislation exempting supporters of "certain predetermined media friendly" clubs.
The 'appy 'ammers were escorted by blue helmeted Sky Sports Skytroopers who refused the pleas of desperate Palace fans to take them with them. "Sorry mate." They told one pathetic club footed Croydonian."We don't go south of the river."
Cruel and unusual
Human rights lawyer Les Dyke is outraged and has expressed concern about the conditions on this barge of the damned. Which the media has already dubbed Palacetine. "One inmate told me that they are forced to eat salad and watch BBC Four documentary's. This purgatory for anyone from Croydon."
The Palacestinians have 28 days in which to appeal their case before being sailed beyond England's shore and deposited within swimming distance of Cuba.
Millions in the hole
In Whitehall, a Government spokesman denied the new laws were draconian and riddled with double standards by telling The Onion Bag that it should "Shut your hole if you know whats good for you."
Already, Crystal Palace are beginning to count the cost of the incarceration of their entire supporter base. Attendance will drop dramatically next season but Palace Supreme Lord Chancellor Simon Jordan, whose club stand to make at least £20 million from premiership promotion, remains upbeat. "At least it gives me another excuse not to pay the players wages." He said, cackling into the night...

Twitter:
Tweet this story
|
Follow the Onion Bag
|
Follow Duffman
Copyright © 2003 - 2023 The Onion Bag