Rubbish Comic In Top Hatters Crash
OLD BAG: This is an archive story from Issue 5 - 26 Jun 2003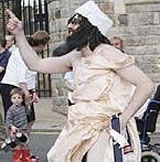 Barschack: Not funny
Newell: Not quite with us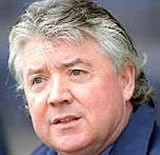 Kinnear: Not on this page
Share the "Truth":

Twitter
Digg
StumbleUpon
del.icio.us
Facebook
Web Search:
Luton Town Football Club officials were outraged after a press conference announcing the appointment of their new manager was hijacked by a terrible comedian dressed in a stupid costume.
The comedian, who was wearing a dress and a very unconvincing wig was supposed to be disguised as some terrorist bloke he'd seen off the telly.
Apparently the 36 year old comic Aaron Barschak had managed to talk his way passed the security guards at Kenilworth Road by saying that he had heard a rumour that the Club's president (or whatever his title is this week) Paul Gurney was unable to pay the guards wages.
In the ensuing chaos the desperate dandy made straight for the conference room whereupon he announced himself as the new manager of Luton and promised: "Premier League Football at Old Trafford for the next 50 years."
Intrusion
By the time anyone realized that Barschak was an intruder, the humorless humorist had finished his party piece changed back into more regular cloths and was sat at the club bar discussing team formations with the bar lady.
Club supremo Paul Gurney, who recently announced that Luton would hold NFL, NBA, Formula One events as well as building a theme park (not to mention provide the venue for the revival of Summertime Special with Jimmy Tarbuck) was furious: "This club is in real danger of becoming a laughing stock" he blazed in front of a room full of somewhat bemused journalist and grateful satirists.
Decent
"I can assure all Luton fans that this shocking breach of security will be fully investigated. How are we to be taken seriously as a contender as an Olympic venue if straight forward conferences like this can descend into farce." he continued while unfurling a "Luton 2012" banner.
"However," he said, once he'd calmed down, "I am very excited about this new managerial appointment and am confident that Aaron Barschak will lead this club into the premier league."
Mike Newell is 76.

Twitter:
Tweet this story
|
Follow the Onion Bag
|
Follow Duffman
Copyright © 2003 - 2023 The Onion Bag