Pitch nutter in betting scandal
OLD BAG: This is an archive story from Issue 53 - 5 Jul 2004
Barca fan: File Photo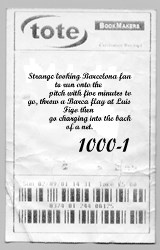 Betting Slip: Crude forgery
Christiano: Forgot to place his bet
Share the "Truth":

Twitter
Digg
StumbleUpon
del.icio.us
Facebook
Web Search:
Fake betting slips sold on e-bay
The gambling world was rocked last night after allegations of match fixing from an international betting syndicate. This follows news that fraudulent betting slips were on auction on E-bay five minutes after the Greeks fantastic and hilarious victory over Portugal last night.
Betting
Suspicions arose regarding a betting scandal when a large number of betting slips were produced at sports books in Nevada and Kuala Lumpar.. The slips read: "Strange looking Barcelona fan to run onto the pitch with five minutes to go, throw a Barca flag at Luis Figo then go charging into the back of a net. 1000-1"
Slip
"I must confess I thought it was a strange bet to take on when this fat yank in a Stetson walked in to my bookies last week." Trilby Kempton, Turf Accountant to the stars, told The Onion Bag. But then the bets came in from all over the world on our website so naturally we shortened the odds.
Despite this, bookies took a pasting and gleeful punters and shady syndicates will be dining out at their expense this week. It was discovered that counterfeit betting slips were on sale on e-bay shortly afterwards.
Rigged
"This marks a turning point in the tactics of syndicates rigging football matches." Said Professor Ernesto Cockgroupier of the University of Croydon's Crime Thingy Department. "Everyone knew that Greece would beat Portugal in the final. After all there a bloody good side and deserved to win. Any other result would have aroused suspicion but a nutter on the pitch? Well its a timeless classic."

Twitter:
Tweet this story
|
Follow the Onion Bag
|
Follow Duffman
Copyright © 2003 - 2023 The Onion Bag