JAMES GOES MISSING IN VIENNA
OLD BAG: This is an archive story from Issue 62 - 6 Sep 2004
James: Sorely missed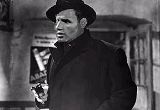 James: Last known sighting
Sven: Taking it all in his stride
Share the "Truth":

Twitter
Digg
StumbleUpon
del.icio.us
Facebook
Web Search:
Nonchalance ensues as the goalie vanishes
FA Officials were running around in mock panic last night as they were forced to report David James to Austrian police as missing.
Contacts within the Viennese constabulary revealed to The Onion Bag's intrepid reporter Larry Gak that disgraced England goalkeeper David James disappeared late on Saturday night following his team's 2-2 draw with Austria, after having left the England squad's national hotel telling his team mates that he was just popping out to get a packet of crisps.
Goodnight Vienna
An FA insider described the moment they realized that James was gone. "It was around Sunday Lunch time." He said. "For some reason David's room mate decided to sleep in the bathroom Saturday night and hadn't realized he never came back to his room."
Normally players aren't allowed to leave the hotel after eleven o'clock but James managed to give F.A. bosses the slip. "Yeah funny that" said one of them.
Our man Gak has been tirelessly searching for clues as to the hapless keepers whereabouts all day by hanging around in the Austrian capital's many bars and assorted hostelry's disguising himself as an American author of trash novels.
The Third Man
So far he has heard any number of rumors about the Manchester City players whereabouts. One is that James is now working the door at a high class ice cream factory. Another is that he is living in a beatnik squat. He has also heard that he is running a network of gun runners in the sewers deep below Vienna. Or that may have been from a film we saw once.
The most outrageous story was that James had simply ran off in shame at his blunder blew a stick on three points in what is going to be a tough route group for the World Cup.
Highly paid England team boss Sven Goran-Eriksson remained upbeat about philosophical about the absence of his number one choice keeper. "The most important thing for me I think is that I am not resigning." He announced with the unmistakable sound of knives being sharpened in the background.

Twitter:
Tweet this story
|
Follow the Onion Bag
|
Follow Duffman
Copyright © 2003 - 2022 The Onion Bag