No right to remain silent
OLD BAG: This is an archive story from Issue 63 - 13 Sep 2004
Do you expect me to talk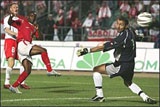 Well obviously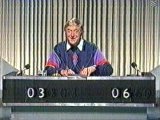 Give us a clue
Share the "Truth":

Twitter
Digg
StumbleUpon
del.icio.us
Facebook
Web Search:
Sven's boys on pay as you say contracts
Fuming FA officials are to stamp down heavily on militant England players in future by paying them solely for talking to journalists. The FA were left feeling they had to do something after player action brought a blackout instead of banal post-match witterings.
As of the next international, players will receive a cliché bonus and be marked on style presentation and artistic content.
Chuffed
The England players were unanimously told by Gary Neville and David Beckham to keep their mouths shut to the media after certain crap members of the team were called crap in the British press.
It is anticipated that Jermaine Defoe would have said "yeah obviously" a lot and been "really chuffed" about getting a goal on his full, competitive, England debut. It is almost certain that he would have also been humble enough to say "it's a team effort" and that he's "taking each game as it comes". It is not known that he would have dedicated the goal to David James - and thanks to the despicable action made by the players we never will.
Two fingers
Not talking on behalf of the players, team captain and sometime player David Beckham mimed to our reporter Gary Lak "Well, (lifts an imaginary bucket) wee (you can guess) shocked (simulates getting an electric shock)". He went on like this for a while but all we could make out was something about writing and donkeys.
We then congratulated him on getting Mrs Beckham up the duff again and whether this would trigger another high profile affair - to which he mimed "two".

Twitter:
Tweet this story
|
Follow the Onion Bag
|
Follow Sp3ktor
Copyright © 2003 - 2023 The Onion Bag