Rio's future shock
OLD BAG: This is an archive story from Issue 64 - 20 Sep 2004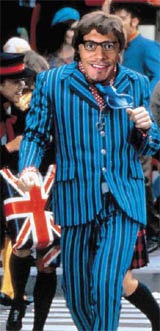 It's freedom, baby, yeah!
Why must I be surrounded by frickin' idiots?
Share the "Truth":

Twitter
Digg
StumbleUpon
del.icio.us
Facebook
Web Search:
Unfrozen Ferdy says life's a drag in 2004
Concerns have been raised over the mental stability of Manchester United and England defender Rio Ferdinand following his removal from cryogenic freeze this weekend. Manager Alex Ferguson put the England star in suspended animation so that he would be fit and ready to play for his United side once the ban had expired.
Unfortunately they were not prepared for the dizzifying effects caused by the changes in events and attitudes over the lengthy period.
Fook Mi
"Yeah baby, it's so trippy. I was sure I'd be able to get my mojo working straight away but it's a crazy world I've woken up in", said a laid back Rio to Onion Bag reporter Gary Lak. "I'm finding it difficult to get my head back in the groove, baby."
The problems started not long after the completion of the thawing process. Naturally curious, though a little groggy, Rio asked what had happened over the past eight months. He was told that: Manchester United are struggling in the bottom half of the table; the last Champions League final was contested between Porto and Monaco; Greece are the best team in Europe; and Millwall are competing in the UEFA Cup.
Fook Yu
Despite feeling like a fish out of water Rio remains upbeat: "Football really is my bag baby, and I can't wait to start swinging back on the pitch. It really will be very groovy. Do I make you horny?"
Luckily it's understood that Rio is getting himself fully up to date with all the goings on over the last eight months by going through the back issues of your very own Onion Bag. Sources on the inside are confident he'll be back up to speed in no time - just as long it's not on a day when the drug testers are coming.

Twitter:
Tweet this story
|
Follow the Onion Bag
|
Follow Sp3ktor
Copyright © 2003 - 2022 The Onion Bag