Shoo Barry Davies
OLD BAG: This is an archive story from Issue 65 - 27 Sep 2004
Davies: Too tanned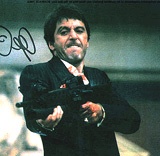 Diego: "Say hello to my little friend"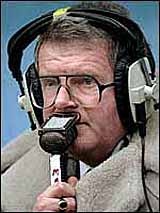 Motson: Evil personified
Share the "Truth":

Twitter
Digg
StumbleUpon
del.icio.us
Facebook
Web Search:
Veteran commentator calls it a day
Barry Davies, for some but not many, the voice of Match Of The Day sensationally quit the ailing Saturday night football show, claiming he's not getting the mike for the big games anymore.
Davies, 93, has been commentating on sport for the BBC since before the Corporation existed but his most famous utterances have been reserved for football matches where his aloof, sometimes fascistic remarks appalled and irritated audiences in equal measure for years.
Filthy photos
But recently, the best gigs have been given to his arch enemy and longtime nemesis John Motson. Motty is believed to have used pictures of top BBC executives doing dirty things with aardvarks to ensure Davies was given second string matches, and worse still, all Wales games.
Tributes have poured in, while both Match of the Day and the Nine O'Clock News featured fawning retrospectives of his career, predictably including his memorable lines, such as, "Interesting... Very interesting!" and "Look at his face! Just look at his face!"
Cokey Fat Boy
The Onion Bag asked genius turned junkie Diego Maradona, whose second goal against England in the 1986 World Cup Finals was described by Davies thus: "You have to say that's magnificent", what he thought of the commentator. He said: "You wanna fuck with me? Okay. You wanna play rough? Okay. Say hello to my little friend!" at which point we made our excuses and left, but not before reminding the fat little f**k (again) that he cheated with his first goal.
Elsewhere, Arsene Wenger said, "Who is this man?" while Bobby Robson tutted, sighed, shook his head mournfully before finally saying that he knew what it was like to be rejected too.
Put Out To Grass
Last night the BBC were denying claims that Davies had been forced out and added, between giggles and guffaws, that he would still be commentating on rubbish sporting events like ice skating from Nottingham and opening and closing Olympic ceremonies.

Twitter:
Tweet this story
|
Follow the Onion Bag
|
Follow Castro
Copyright © 2003 - 2023 The Onion Bag