THE MANCUNIAN CANDIDATE
OLD BAG: This is an archive story from Issue 68 - 18 Oct 2004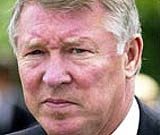 Fergie: Target
Rooney: Made to watch
Babs: Must stay at least 100 yards away from
Share the "Truth":

Twitter
Digg
StumbleUpon
del.icio.us
Facebook
Web Search:
Star Rooney brainwashed to assassinate Fergie?
The Onion Bag stumbled across a murder conspiracy last night when it realised that a cheap pun on an upcoming film title could be turned into what it hoped was comedy gold.
Fiendish Plan
Sources close to the Bag revealed that teen England sensation and all-round spud head Wayne Rooney was brainwashed while signed to Everton. The ailing Merseyside club realised that by messing with the mind of their young star, they could shift the balance of power in the Premiership by having him kill Manchester United boss, Alex Ferguson.
Expert North Korean brainwashers were flown in for the treatment, returning to Merseyside where they had previously been employed by Everton washing the minds of Liverpool FC's directors as to the qualities of Gerard Houllier, only quitting when they ran out of detergent and allowing the mystified board to wake up to the truth.
Bab's Baps
Rooney was subjected to a daily regime where he was strapped in a chair with his eyes pinned open and forced to watch an endlessly looped film featuring just three scenes: Sir Alex getting angry, an ox being slaughtered, and Barbara Windsor's bikini pinging off in Carry On Camping.
"On me 'ead, son"
By the time it was complete, Rooney was duly transferred to Old Trafford. It is understood he is currently waiting for his controller to speak the trigger phrase (believed to be, "On me 'ead, son", whereupon he will grab the nearest gun and march robot-like towards Fergie, uttering the words "Must kill Sir Alex", before popping a cap in his manager.
Cheap Rip-Off
The plan is remarkably similar to that of classic film thriller, The Manchurian Candidate, recently remade starring Denzel Washington.
In a joint statement issued at 11 o'clock this morning, both Everton and Manchester United denied the conspiracy on the grounds that neither had been able to find Rooney's brain.

Twitter:
Tweet this story
|
Follow the Onion Bag
|
Follow Castro
Copyright © 2003 - 2023 The Onion Bag